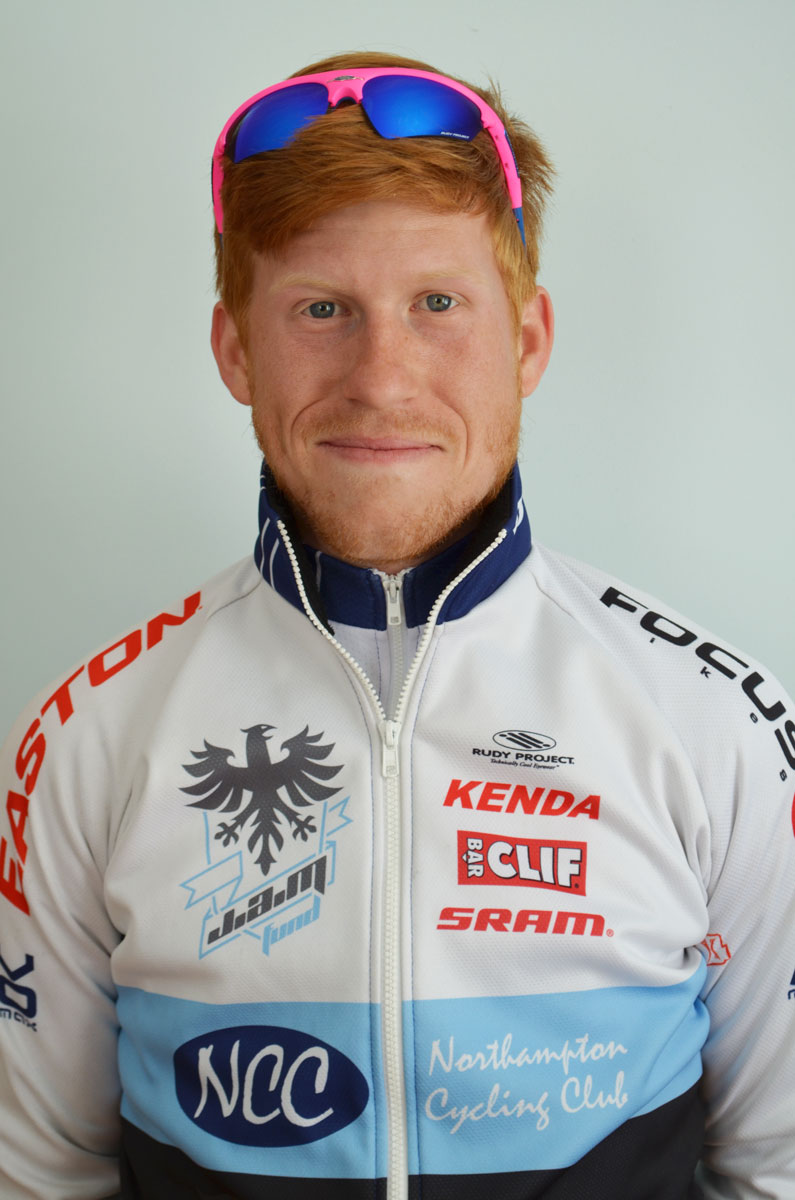 Stephen Hyde. Photo via JAM Fund cycling.
Last cyclocross season was Stephen Hyde's best so far. Riding for Jeremy Power's JAM Fund team, the 28 year old notched several big wins, a 6th at nationals, and his first spot on the U.S. world's team. It seemed like the fulfillment of an athlete's lifelong dream. But Hyde's a relative latecomer to professional cycling and his path to the world championships was filled with winding detours. Before he ever donned lycra and lined up on a cross course, Hyde spent time as a teenage BMX punk in Florida, moved across the country by bike, worked his way up and down the east coast as a shop mechanic, and much more. I spoke to Hyde about his years of wanderlust adventuring, how he got his start in racing, getting serious with the JAM Fund, his breakout season last year, and his race career plans for the immediate future.
I gather you grew up as a BMX shredder in Florida. Tell me about those early days of riding.
I grew up in a pretty small town called Milton, Florida. It's just outside of Pensacola. It's very rural–all pine tree farms and hunting land. All we ever did was ride bikes. That's kind of all we had to do. My dad would always take my friends and I out to the state park or whatever and we'd ride bikes and go camping. Then when I was 13 or so I found dirt jumping and BMX stuff. I did it until I was in my 20s. We had dirt jumps that we'd build by hand. Or we had a tractor that we'd use to build pretty monster stuff. We would travel around to a lot of skateparks. I saw a lot of the country, which was cool.
How'd you make that transition from BMX to cyclocross and road racing?
I was always interested in mountain bikes–I did my own little version of mountain biking–but I always had cheap bikes when I was growing up. When I was 17 or 18 I got a job at a bike shop in Pensacola. It was through the punk scene there. This guy who did the door at the vegan bar/showroom I always went to was like, "you ride bikes, you want a bike shop job?" I said sure so I started working at the shop then. They gave me this trash mountain bike and I rebuilt it. I learned how to work on bikes from that. I did a mountain bike race and won and I was like, OK this is cool. But then I kind of hung it up for a long time.
I got into commuting around that time and got rid of my truck. I moved downtown from the rural suburbs. Some friends of mine and I started a little courier service on the side doing food delivery. I built all the bikes for it. I started doing community shops and would teach clinics at the co-op. Then a pedi-cab business started up and I was managing that for a while. I got really involved with bikes, but I wasn't really racing for a while.
Maybe around 2008, my partner at the time and I sold our stuff and moved to Portland by bike. We were originally going to ride over to San Francisco to live with her sister. We were around mid-Texas and her sister was like, "hey I'm moving back to Florida." We took a little detour and said, "well, fuck it we're out here." We rode to Portland to visit a friend of mine and really liked it there so we stayed.
I got a bike shop job at a used store and got a road bike. My friend was racing there and he told me I should join him, but I never actually did. I did see my first cross while I was there. I'd actually gone to a race with a friend who was trying meet this girl.
At the time I was just doing bike camping and touring. I bought a steel road bike and did all this hard riding in the mountains with my friends. It was awesome. We'd leave Thursday or Friday night, strap our sleeping bags on, go out to the coast or the mountains and come home Monday morning in time for work. I did tons of riding out there.
I moved back to Pensacola after about a year there and got a job at another bike shop. They got me into racing. There was a club there and they were racing road. I did some Cat 5 road racing and I was terrible. Too anxious. But it was fun. I absolutely loved it. I started racing mountain bikes again too. The shop was awesome. They were giving me bikes.
I started doing a bunch of racing around there. I was racing on a rigid, single speed, 26 inch Surly 1×1. I would do those single speed races and win by 20 minutes. Then I got a real bike and was doing Cat 1 races and still winning. It was pretty easy in the Southeast. I was like, yeah this is it, I'm going to be a professional mountain biker! But I never put any real effort into it. I was the best guy there and thought it would just happen one day.
I did my first cyclocross race that year, too. My friend Cody and I drove to Tallahassee cause we heard there was going to be a cross race. We didn't really know what it was. We'd built up cross bikes at the shop. Somebody had brought in this 58cm steel Bianchi and I built it up with a bunch of Campy stuff. They had a C, B, and A race. I did the C race and I won. I almost lapped the field. After that everyone was yelling at me, "you sandbagger." There were only like 40 people there. So I said fine. I'll do the B race. I won that one too. People were egging me on to do the A race. I said, yeah OK I'll do the real race. I did it and I ended up bonking really hard, but I attacked and blew the thing up and got 4th or something like that.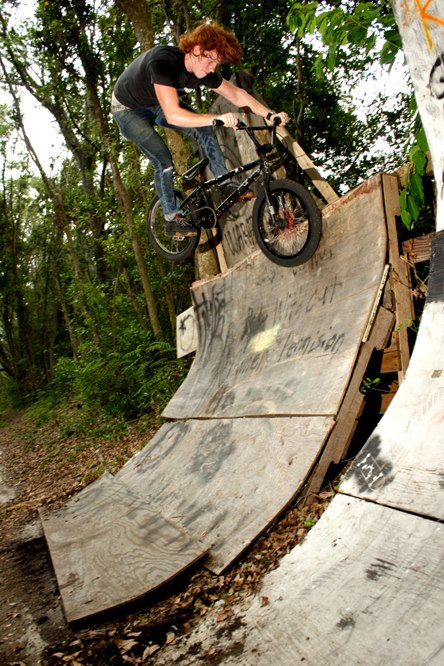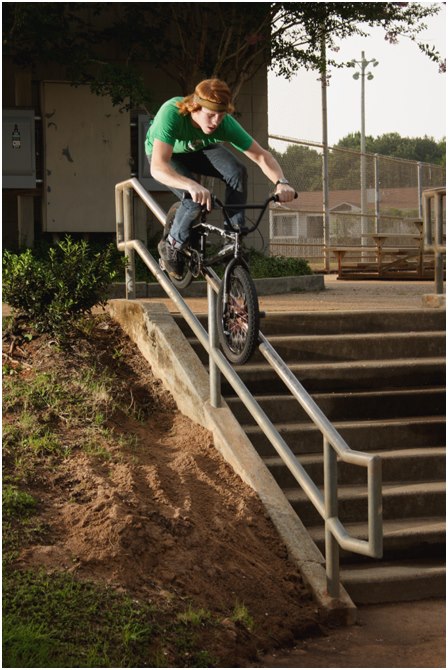 Stephen Hyde's BMX days. Photos via Stephen Hyde
When did you start taking racing seriously and trying to do something with it?
I met this guy Frank Jennings who owns a bike shop on Martha's Vineyard and is from Pensacola. He offered me a job at the shop and I took it. He was on the U.S. team in the 60s and lived in Belgium and raced with Paul Curley for a long time. He was my introduction to New England. I came up for the summer and worked with Jason Snow, a 30+ masters world champion and former national criterium champion and was on the Jittery Joes team. He got me involved in all this and I started training.
My partner was in D.C. at the time and I went down and met up with her. This was 2011. One of the customers at the shop had a Cannondale commuter bike and let me borrow it and I did some of the Mid-Atlantic series races. I upgraded really quickly. I won the first four or so races I did and upgraded to Cat 2. I wasn't mountain biking any more, but I was doing some road racing as a Cat 3. I was getting super fired up.
I went back to the Vineyards again the next summer and got even better. I decided I wanted to pursue racing for real. I was training and doing well. I did some New England road racing as a Cat 3 and was like, whoa this is really hard. The Cat 3s are really good here. But I was getting top top tens in road races. Then I got lyme disease . That plus working 75 hours a week at the bike shop took me out. I couldn't train any more.
I went over to Portland for the winter. I bought a Volvo wagon and drove out to do the UBI bike school. I ended up  doing some OBRA cross races. It was awesome. Alpenrose was the first race I did over there and I crashed really hard. I met a girl and we were racing together. I won some of the races and she convinced me that I was good enough to do something with it. She got me in touch with Al Donahue, who's now my coach. It was interesting. This guy Rodrigo I was working with on Martha's Vineyard had been on JAM for a couple years. He wanted to be the first Brazilian to go to Worlds for cross. He had lived in Northampton, MA and he was super impressed with the team and always told me that I needed to meet Al. But it never really happened on the east coast. Then I moved out to the west coast and meet this awesome woman who's telling me, "you should meet my coach in Massachusetts" and it's Al. It was a sign for me. I got in contact with Al and he said, "yeah, come on out, I'd love to meet you."
I drove out to Northampton. I hung out with Al and we'd go on road rides and ride single track trails on our road bikes and I was like, this is where I belong. He told me there were a bunch of guys trying to get on the team and they probably wouldn't have a spot for me, but that I should go to a race with him. I went to a race in Connecticut. I can't think of the name of it. [Adam] Myerson was there. So was the Richard Sachs team, Dan Chabanov and Christian Favata. Brittlee Bowman wasn't on the Sachs team yet, but that was the first time I met her. She's now my girlfriend.
I was totally sweating bullets when I went over there. I was still wearing the Pensacola skinsuit from however many years ago. I was sitting in the group with Al and all those guys just kind of chit chatting. Al was like, "what are you doing? You're an idiot. Attack!" So I did. Myerson countered it and went with me, but I dropped him on the technical section of the woods. I came out of the woods by myself and soloed it for four laps. Al came across the line and shook my hand and was like, "welcome to the team."
Was getting onto JAM the turning point where you thought you could make a career out of it?
Absolutely. Al really had the sit down with me. He said, "look, you have the potential to do this. I'm willing to put the effort into you. The program is set up so we can develop riders and we really want someone who is willing to commit to the program and commit to being a professional racer. We will help you in every way we can." It was the most terrifying thing anyone has ever told me. You grow up and you ride bikes and you're like "I totally want to be a pro." Then someone says do you actually want to be a pro? It was scary.
I was still on the Vineyard at the time. I did one more half summer there and then quit my job and moved to Northampton. They really wanted me to live in the valley and told me it'd be much easier to take care of me if I was there. I raced some road that summer and got my Cat 2 upgrade. Then I did my first UCI cross races that winter. It took me three weekends to get my first UCI point. I did Sterling, NBX, then Super Cross and I got points at Super Cross.
That first year, Al asked me to join him for a no-pressure trip to nationals. He said, "help me drive the van and take care of the guys, do the race, get some experience." I did and it was the first time I'd ever raced at that caliber. I'd never raced on frozen ground or in that cold of weather. It was a real eye-opening experience. I ended up flatting all my tires and blowing up my brake pads and pulling out of the race. It blew my mind wide open. I had to reevaluate. Al was like, "this is what it's like. Can you handle this abuse and still come back?"
The next year I won some races and got my first pro road contract a month after getting my Cat 1 license. I did everything Al told me to do to a T. I spent as much time with him as I could and with Jeremy [Powers], with [Jeremy] Durrin who was on the program. I actually ended up moving in with Al for a month or two. I had a lot of struggles coping with it, of not having a job and struggling and not being able to pay for things. I couldn't be independent and everything was 100 percent for the bike. It was very, very hard for me, but they really stuck it out with me and put a lot on the line and helped me grow a significant amount. I'm a completely different person than when I came here. It's been a real transformation for me to put my faith in them and rely on others and have the pressure of their faith in me.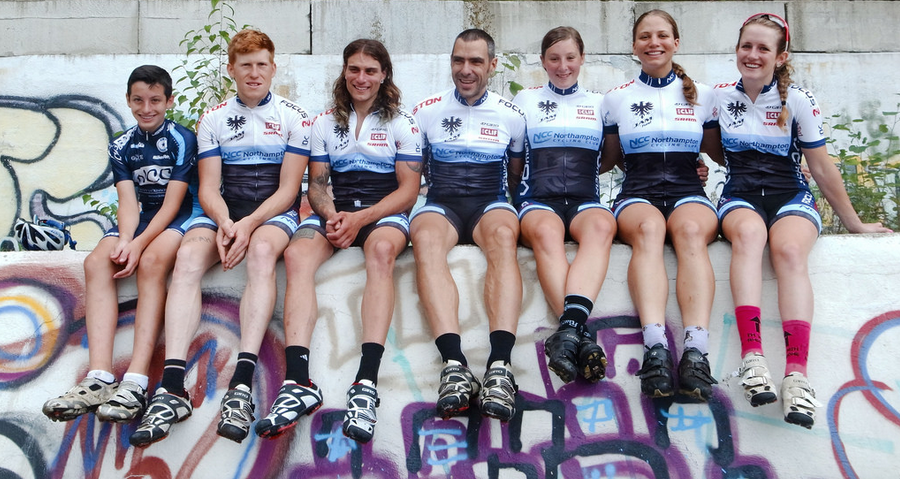 The 2014 JAM Fund team. Stephen Hyde 2nd from left. Al Donahue center. Photo via JAM Fund cycling.
So you're now a JAM Fund rider and you didn't have a job. Were you getting a salary or a stipend from the team to ride for them? Or is it that they give you housing and food and training and your only money is coming from race winnings?
I was racing enough of the local races that I was getting money from that and living off of it. I was living very cheaply. I rented a place from a guy here in Easthampton who gave me a really good deal. I lived with Al for a few months to get me on my feet. I was doing a couple of days a week at Joe's Garage, a shop here in Easthampton, which was a huge help. Justine Lindine used to work for him. Joe sponsored the BikeReg team. He's a huge helping hand in the community. Really I was just doing the minimum off the bike and hoping that when Al said that the community will support me as long as I put 100% in on the bike it would hold up. It did. The whole community–Jeremy and Al and Makunda and everyone at the bike shop–it was a huge support network. My parents helped out. For a family that doesn't really have anything, it was a huge deal for them to help me out. It was a big leap of faith. There were a lot of inspirational phone calls where I'd ask my mom and dad, "am I doing the right thing? Am I being a total brat?" But everyone stood behind me and said, "just bust your ass for a while and see what happens. If you don't try you'll never know."
Is that pretty much the only way to make it in U.S. pro cycling? Make this big gamble, accept a life of poverty for a while, and hope for the pay off?
No, I don't think so. This is my second year on Astellas on the road and I've met a lot of people through it. There are a lot of people who have the same story where they're like, "I quit my job, bummed off my parents or girlfriend or boyfriend." But there's a lot of kids that get into it. You see a lot of espoir riders who are supported by their parents. I meet 30 and 40 year olds who have never had a real job. There are so many different entries into the sport. For me, I waited a long time. It was the right time, I guess, but I was 26 or 27 when I actually was trying to be a professional. That's pretty old. I'm racing 19 and 20 year olds.
Everyone's got their demons they're working with. Some people's hard is different than other people's hard, for sure. But regardless of how old you are, what team you are, how you got into it, it all absolutely breaks you mentally and physically.
What was it like racing in Europe for the first time last winter?
It was absolutely amazing. I had wanted to go over the year before. Jeremy Durrin had been going over and getting experience and I wanted to do this trip with him. But I had a knee injury that ended my season, so we planned for the next year. It was good timing. I actually did two trips to Europe last year. When I went over in November I did B-Post and Super Prestige races. It was kind of part of the JAM curriculum. It was like, OK we're going to get you good enough to win a C2. Then we'll get you good enough to put everything into one race a weekend. Now go to Europe and see if you can handle it.
We picked some of the races that suited me. I went to Izegem and stayed in the old USA Cycling house. It was very hard being in Belgium, especially on my own, especially for the first time. The races were unbelievable. The courses were some of the coolest things I've ever seen. The whole scene was just so surreal and so unexpectedly grand. I got absolutely killed. My first race was Spa-Francorchamps. It was a new course and Erwin Verveckin had designed it and it was obscenely hard. I was pedaling harder than I've ever pedaled downhill just to dismount at the bottom and run. The hills were steeper up and down and the running destroyed me. Then I got on some courses like Hamme-Zogge and GP Hasselt and I placed in the 20s. It started to change a little once I figured out how to travel, live in Belgium, learn the rhythm of the races. My goal was to come out of the experience smarter, not get results.
I flew back to Georgia for a training camp with the JAM team. I ended up rolling my ankle and pulling a tendon on my foot. I could still pedal, but I wasn't able to run. My foot was black and completely swollen. When nationals came up and it was so muddy, I wasn't even sure I could start. I ended up getting 6th there. I wasn't technically qualified for worlds, but I was the next best thing and got a discretionary spot.
I went over and did my first World Cup and I actually did pretty well. Jeremy took me under his wing. I stayed in their house, I did the Rapha Focus program, I had their mechanic Tom Hopper. I did everything that Powers does. I learned much more about traveling and taking care of myself in Europe. And I actually had an awesome race. I was in the top-20 for a while. But my back ended up blowing out on me. It was a real heavy course. But it was inspiring to see what I'm able to do. I came back and immediately started working towards the 2016 cross season. I went from doing core work one day a week to basically seven days a week for months. I've increased my aerobic volume. I've been doing more off road riding and going out and finding stuff I'm not good at and pushing myself to do it.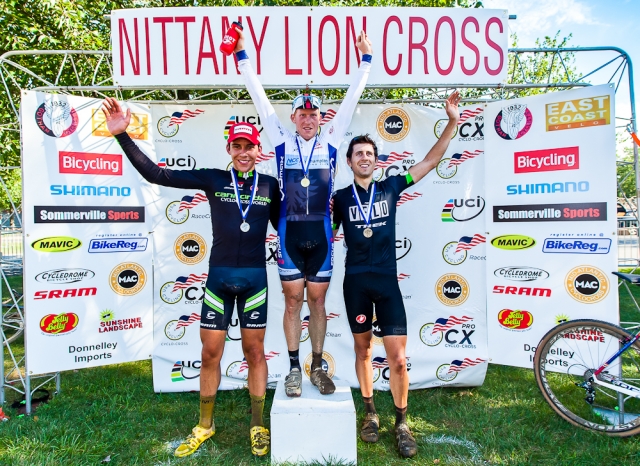 Stephen Hyde atop the podium in Pennsylvania. Photo via usacycling.org.
Tell me about getting on the Cannondale team. What does that mean to you and the progression of your career?
It's huge. It's absolutely massive. I've been a pro on the road for two years. That's cool and all, but my whole goal was to be a professional cross racer and I did it. I did the thing that I set out to do. When I got the email that I was accept to go to worlds I was in Austin hanging out with everybody. I went outside and called my mom and I cried. And this was the same thing. All of a sudden I had these people calling me. I was in negotiations with a couple of teams. I had the two best teams in the country calling me to race for them. I had Cannondale saying, "we want to replace Tim Johnson with you. He's retiring and we want someone we can grow with, someone we know is going to be around a long time that we can develop and trust and like." I was in tears. This is the most amazing thing that's ever happened to me. This is probably the only thing in my 28 years I've stuck to through everything and made it happen and it's a dream. The significance is not lost on me.
What are your goals for the next few seasons of racing?
I really want to keep progressing. I'm still working with Al. I still don't get out of bed or do anything unless he says to do it. I want to be able to perform at a higher level still. I haven't won a C1 race yet. Somebody has to beat Powers. I'd love to be the guy to do it. That's what Powers wants. That's why he created the program. Everybody wants more competition. More than anything I would like to help the sport grow. I want to be able to be better competition here in the U.S., but also follow in Powers' footsteps and have a presence in Europe. This year I'm going to do Namur and Hoogerheide. That's the plan anyways.
I'm definitely tailoring my training towards not only racing in the U.S., but the future in Europe. I'm training for two years out. We're experimenting with not only how I can be better now, but how I can be better in two years, how I can be better next year. I'm always thinking about that and I've always got my mind on progressing and that's keeping me pretty excited to race.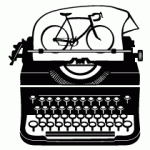 Like what you read on The Bicycle Story? Support the work with a donation, by buying a shirt, or sharing it with your friends.