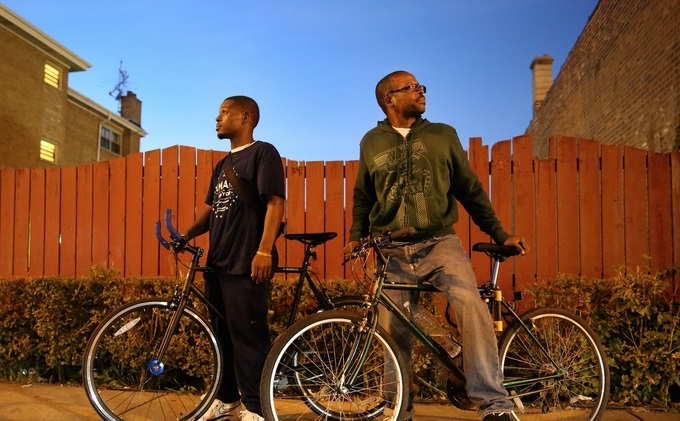 Slow Roll Chicago founders Jamal Julien (left) and Oboi Reed (right). Photo via actionhub.com.
Cycling saved Oboi Reed's life. He has long suffered from depression and, in the darkest moments of a severe bout with the disease years ago, was contemplating suicide. Instead he went for a bike ride along Chicago's Lakefront Trail. It wasn't a magical cure. But the exercise, the natural environment, and the social connection to other cyclists helped put him on a path to recovery and sparked a deep love for cycling. Now Reed is working to spread that bicycle love throughout his city. He wants to live in a Chicago with safe bike infrastructure, ample bike resources, and bike share stations in every neighborhood; a Chicago where everyone can access cycling's inherent health, environmental, and economic benefits regardless of race or class.
It's a lofty goal. Currently, Chicago's bike infrastructure is clustered predominantly in the city's whiter, more affluent downtown and North Side neighborhoods. Reed says the city hasn't made an equitable investment in bike infrastructure in the poorer, blacker South and West Side neighborhoods, which, in turn, discourages riding there. It's a problem he's working actively to fix. He co-founded Slow Roll Chicago and is involved with Red Bike & Green and South Side Critical Mass, organized rides focused on getting more people of color biking. Reed's also increasingly been a part of Chicago's bike politics. In December, he and a coalition of black bike advocates presented a letter to the Mayor's Bicycle Advisory Committee demanding a public commitment from the city and state to invest an equal share in bike infrastructure, education, and bike share stations. I spoke to Reed about cycling's positive impact on his depression, his foray into bike advocacy and organizing, perceptions of cycling in some black communities, fighting for bike equity in Chicago, and more.