Sally Fornes is exactly the kind of guy you want to have at a cyclocross race. He's there with the beer hand-ups for the crack-of-dawn Cat 4 races, he'll heckle you mercilessly through a megaphone while you're racing, then he'll invite you back to his team tent to hang out for a post-race recovery drink. He's also been known to hold his own at the front of the single speed race, was the lead organizer of the latest Single Speed Cyclocross World Championships, and, in his spare time, is Raleigh USA's main marketing guy.
Where'd the name Sally come from?
Sally is an old college nick name. Boy, I really think that's about as far as that one should go …
I've played in a lot of off-beat hippie Olympics-type things, cycling included, and for a long time I was an ultimate frisbee player. One long summer when our team wasn't that good, we decided to try and distract the other teams as much as possible. One of my tactics was to wear a big pink prom dress out on the ultimate field all day long. At the time I had hair down to the middle of my back–when I had hair–and one tournament someone started calling me Sally and it stuck.
I've tried to walk away from it, I've moved, I've done everything possible, but it follows me absolutely everywhere I go. It got to the point where I gave up fighting it. Plus, it stuck out a little more than my given name, and currently in this industry sticking out kind of helps, depending how you look at it. I know my parents don't really care for it. My mom just still shakes her head every time she sees a picture or something and asks "is that you?" I can't apologize enough to them.
Tell me about your history in the bike industry. How did you end up as Raleigh's marketing guy?
Bike stuff goes back to the late 80s when a good friend of mine got me addicted to mountain biking. When I went to college I started working at a bike shop just to help pay the bills and satisfy my addiction there. After I got done with college I didn't want to use my degree, plus I wanted to travel and had always wanted to be a pro race mechanic. I became a race mechanic for USA Cycling for three years. Traveled the world, did the Olympics, did a gamut of stuff with them. From there I became a bike tour guide for a couple of years. Then I took a year off biking completely. I tried to get a real job, but I just couldn't do it. Bikes were what kept me happy and what kept me drinking.
I knew a guy at Raleigh. He got me started in the warranty department. I was there for two years. In that span of time I helped start a blog on the site, threw a couple of super hero rides around town, and drank a lot. Over the course of time Raleigh kind of forced the job on me. I actually turned it down the first time they offered me the position. I didn't think it was the right fit for me. But, they were persistent and now they're stuck with me.

Sally at StarCrossed. Photo from flickr user lifebegreen.

You were the force behind the popular Rainier single speed cyclocross frames and subsequent Hi-Life and SSCXWC frames, bikes that did a lot to shape Raleigh's image as a company that supports cyclocross. Was Raleigh on board with single speed cross from the get go or was it seen as a big gamble?
If you pan back to any good late-80s, early-90s movie where the kids were fighting the adults and had to sneak around and circumnavigate to get everything done and had to hide it all, that's exactly what I had to do with the Rainier frames. I couldn't get a signature to approve this stuff. I had to use–maybe use isn't the right word–I utilized my people inside to help me get those original 40 framesets sent over.
It definitely was not the direction Raleigh was going at the time, but it definitely helped change their attitude about how they approach things, how we look at our graphics, and how we do bikes in general. Since the Rainiers took off and were a hit at Interbike they started to resonate with everybody in the building. It's gotten a little bit easier to get the new single speed cross frames.  There are still some hurdles to go over. The more things change, the more things stay Raleigh sometimes.
What sort of stuff has come out of that attitude change? Did it have an influence in the company beyond single speed cross?
The experience helped shaped a different approach to graphics and what kind of influences we actually use for our bikes. Before, everything was done by committee at Raleigh. We would present a few different graphic lines, then a bunch of people within the company would weigh in. With something like this, I got to choose what I felt worked really well and people resonated with it a lot more. We started working off the ideas of people who are riding everyday and the culture around it. We started going to a lot of the handmade shows, checking out different designers, and simplifying things a little bit. It actually resulted in things like the Allyway, our Sojourn touring bike, and a few others, which were a complete departure from our previous directions.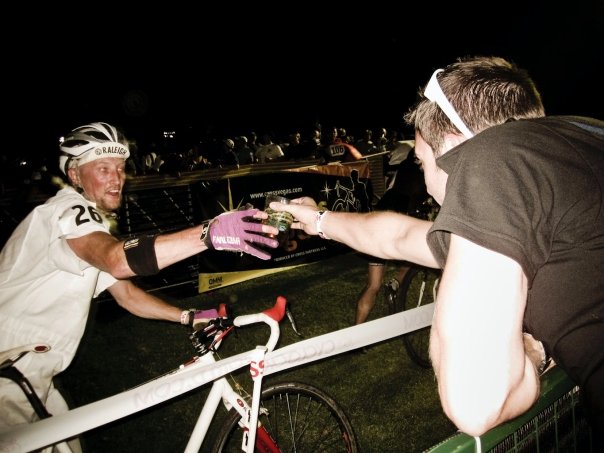 Taking Cross Vegas super serious. Photo by MotoFish Images.

As the organizer of the latest SS CX Worlds and dedicated single speeder, what are your thoughts about the growth of SS CX, particularly in light of or maybe in contrast to fast guys like JT Fountain and Craig Etheridge who want to see single speed taken a little more seriously?
Sure. That's a natural progression. You want to see anything you do succeed and certainly don't want to see it die out. But at the same time there's a spirit behind SS CX that you try and maintain, that you want to live true to. Once it gets totally tampered with it's time to move on to the next thing.
It's the same thing that happened with single speed mountain biking. I've been a single speed mountain biker for I don't know how long. It almost feels like decades. I went to [single speed mountain bike] worlds a few times and eventually it started becoming this over produced thing. I read your interview with Stevil and I agree with some of what he was saying about cross worlds and hoping to some extent it would die out a little and the spirit of the event would be left alone.
But now we have Nationals and an official single speed category in there. It's a legitimate thing and everyone can hang their hats on that. But Worlds was started as something that was fun. I like some of the other comments that have been thrown in there that they want things to be more organized at SS CX worlds and they want it to be an "actual" race. I feel like it has been an actual race from the beginning. What nobody's looking at is that fact that all the spectators and everyone that's participating in it are the greatest barriers anyone is ever going to come across. If you can navigate your way through that cluster fuck of drunken mess and end up coming out number one you truly are the world champion.
If you want a straight up race, go to nationals. Get it there. Maybe someday the UCI will kick down and have an actual legitimate single speed world championships. But SSCX Worlds is for us.
You and your friends definitely embrace the hard drinking, hard racing, wild-men (and women) school of cycling. Will there always be a place for dirtbags in cycling or are you getting pushed out as more and more events are billed as family affairs?
There is going to be a push back, but all it really does is make us smarter about our drinking and how we're doing it. It creates smarter, faster, better racing drunks. We do have to hide a lot of it. We do have to tone down our antics. But at the same time, the biggest race in Seattle, the Woodland Park race, single speeds showed up, there was a whole lot of nudity, and it was probably one of the most family friendly races of the year. The kids loved it. Hearing little kids shouting for guys racing in nothing but tighty-whiteys is just priceless. It helps create an atmosphere of fun that contrasts the air of seriousness. Sometimes people are just too Boulder-esq about everything.
I appreciate my Hodala teammates a ton. Not only do we throw back a beer or two here and there, but at the same time we actually get results. It shows you don't have to take things seriously in order to have fun and place, if that's what you're looking for.