It takes a brave soul to disassemble a Rohloff hub.
It's hard to say what it is about cycling that attracts D.I.Y. tinkerers. Part of it is certainly the relatively low-consequences of bike mechanics. Sure there are certain key components of a bike that require more skill to install or adjust than others, but a botched crankset installation likely won't kill you. Another aspect is probably the sheer number of things to change on a bike. In the hands of a dedicated mechanic (amateur or otherwise), a bike frame becomes a blank foundation on which to attach a nearly infinite number of fork, wheel, tire, handlebar, drivetrain, fender, rack, saddle, and electronics combinations. Bring welding skills into the picture and the fabrication and modification possibilities are almost limitless.
Thanks to my Internet addiction, I've come across a lot of great examples of DIY bike crafts. Here are a few good ones I've seen of late:
Pugsley Fenders: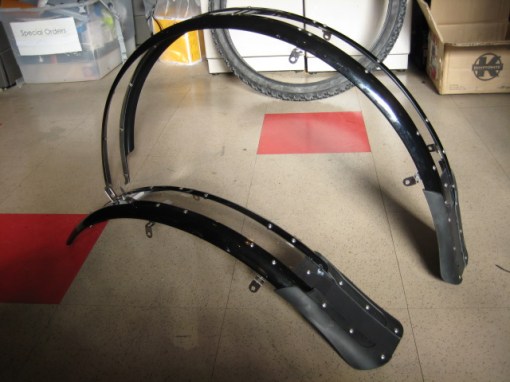 Pugsley's and other similar super-wide-tire snow bikes are borderline commonplace these days. Despite that, there still aren't many companies designing components for them and none designing fenders. Pugsley owner Al Sondgeroth was undeterred and made himself these fantastic fenders using Planet Bike 29er fenders, strips of plexi-glass, and some button head screws.
Bamboo Xtracycle
Alan of Two Brothers Cycleworks built the the framework for his long-tail cargo bike using an old aluminum Cannondale mountain bike with a bamboo and carbon extension. Skeptic that I am, I assumed the bamboo might be noodley (a problem lots of long-tails have), but the folks at Xtracycle vouched for its stiffness themselves.
Low-trail Mixte
Alex Wetmore is a Seattle hobbyist frame builder and bike-tech wiz (who contributes technical articles to Bicycle Quarterly). His personal bike, the Gifford–a Rohloff-equipped, low-trail, 650B, wide-tire all-arounder–was the basis for Rawland's new rSogn model. When Alex's wife got a new Soma Buena Vista mixte, he brought out the torch to change the headtube angle and build her a new fork and porteur rack to make it a front-load carrying beast. Impressive to say the least.
What about you? What have you changed on your bike to make it better suit your needs? What impressive examples of DIY bike work have you seen out there?