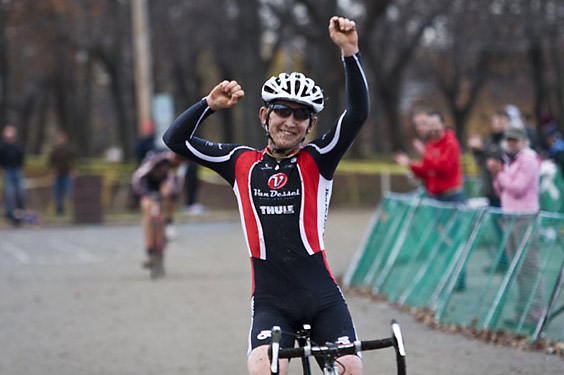 Photo via Van Dessel Sports.
Adam McGrath's story begins like that of the typical professional cyclist. Fast junior with promising natural talent rises to the pro ranks, travels the national racing circuit and makes a few forays into the European scene. From there, however, it takes a sharp turn towards unique. Nomadic travels around the world, the formation of strong philosophies on injustice and inequality, and homesteading on a small piece of property out on Washington's Olympic Peninsula took precedent over racing. In part 1 of 2, Adam talks about his early exposure to cyclocross growing up in Boulder, CO, his path to professional racing, and his motivation to see the world.
How did you get your start in racing?
I pretty much got my start by being in the right place at the right time. I hail from the famed "People's Republic of Boulder" and got into mountain bikes when I was pretty young. The summer when I was 10 or 11 I saved up the dough needed to buy a mountain bike. I happened to live down the street from the bike shop and, like most kids with nothing to do, I often lurked into the shop to visit my prize-to-be. I eventually got the bike and I caught the riding bug. Back then it was my ticket to freedom, to travel, to being myself.
I kept going to the shop. They let me work for parts trade and even took me out riding. Some of the guys told me I was decent enough to try racing so I checked out the cyclocross races held at the Boulder Research Park (once home to a Supercup) and I thought I'd give it a go. I work traded some IRC Notos 1.5's and put them on my Gary Fisher Tassajara and started racing all the Boulder races I could ride to.
Take me through your path from junior racer in Boulder to professional, racing cross around the country and world.
I'm not sure who's to blame for me going from riding a tiny mountain bike at cross races to having a fleet of carbon wheels and frequent flier miles but I'm sure the list is huge. There were tons of people involved in my development as a pro, but once again it seems like a right place right time sort of thing. When I was a kid, Boulder was full of top level mountain bike pros who were good cross racers too. I raced at 9 a.m. and the big boys were always glad to take pit help for their afternoon races, which I loved to do. I was also a decent junior rider, and getting better. So, as it is for most fast juniors, I got taken under the wing of the fast guys. The fast guys I was hanging out with were really, really fast and really well hooked up. I started going beyond just the races I could ride to and was traveling the front range of Colorado.
Then my last 2 seasons as a junior I hooked up with Marc Gullikson as his mechanic. I raced the junior races in the morning, then worked for him in the afternoon. This was in the first years of the USGP. I had really strong seasons racing then and got selected for Geoff Proctor's Euro Cross Camp and then Worlds. The junior years were my first trips over the pond to race. All the pros who brought me up taught me not just how to be fast, but how to be a professional, how to travel well, and how to work with your sponsors.
Since then I've been using those skills to put together a program that gets me to the races I've wanted to go to. Up until this season that has been traveling the US with an odd trip to Europe to race in circles. There is much more to the story and way too many people to thank/talk about to get the full story, but that's the gist of it.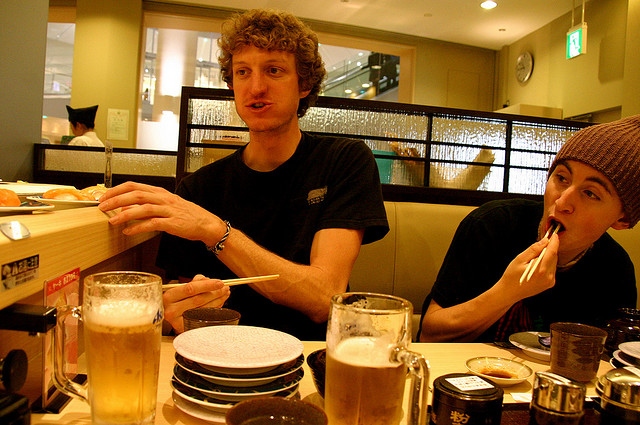 Barry Wicks and Adam in Japan for Brian Vernor's film The Cyclocross Meeting. Photo via Flickr.
You had a pretty nomadic lifestyle for a few years, living in a van, racing cross in Japan, traveling through New Zealand. What was fueling your wanderlust?
To be honest I'm not really certain. Part of it was because it was silly fun, part of it was just curiosity. But there were other elements too it. Traveling has pretty much served as my education. I realized that when I was pretty young, so I took advantage of the opportunity I had at the time. It was wonderful and the best way for me to grow and learn personally.
But some of it was also running away, or doing what was easy and simple. Being a bike vagabond is pretty easy and you don't have to have too much responsibility. You are generally working on dialing in your system to keep it simple. But, honestly, after seeing enough sights, some questions begin to grow in the mind about the state of things. Why can society be so cruel, why are there so many injustices in the world, can we keep up this pace forever, who is responsible for such gross exploitation of the natural world? But most importantly am I a part of it and if so what am I doing, especially with all my American privilege? In some regards traveling was an escape from having to deal with these much heavier things, but it also provided lots of answers along the way.
What were some of your favorite traveling adventures?
By far my favorite traveling adventures were: living in New Zealand for nine months, all trips to Scotland, hitchhiking on a boat in Norway, New Zealand mountain bike World Champs, train hoping in Europe, skiing in and out of the van for 2 weeks straight. I mean they were all good really. Even the really shitty bits make the good bits better in the end.
Stay tuned for part 2 when Adam talks about settling down and finding a sense of place, his new life as a "micro-farming" homesteader, and his future in cycling.