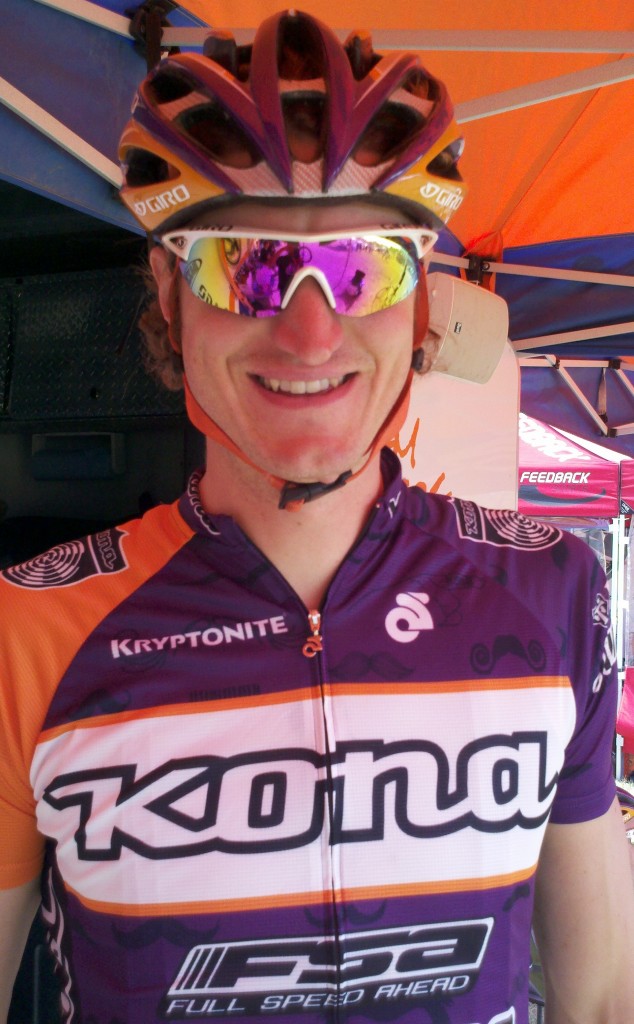 Tall guys require tall photos. Photo via thebonebell.com
Barry Wicks is a professional mountain biker, cyclocross racer, and, as of last year, Kona's race team manager. He cut his teeth racing in Oregon as a junior and rose to the highest levels of World Cup cross and mountain bike racing. His palmarés prove he's a serious racer, but he remains laid back and affable through it all–a fact that's made him one of the fan favorites in racing. I spoke to Barry while he took a break from his team manager duties, supporting his riders at Crankworx in Whistler, British Columbia. Part one of this two-part interview covers Barry's introduction to racing as a junior, Erik Tonkin's mentorship, his recent experiment with endurance mountain bike racing, his Chicago slump, and more.
I'll start with the beginning. How did you first get into racing? Do you remember what your very first race was like?
I started riding mountain bikes when I was pretty young. I grew up on Mount Hood and just road bikes all the time. We didn't really know what mountain biking was, but that was basically what we were doing. Then I found out about a race series at one of the local ski areas, Ski Bowl. The first race I ended up doing was a dual slalom race when I was 13. I was the only one in my age group so I totally won. Through that same series, I found out about cross country racing and started doing that. I came up through the Oregon racing scene from there.
Tell me more about your path from there to your professional career.
The Oregon series, OBRA, used to have about 15 XC races a year and there were a lot of juniors doing it, so it was a good experience for me to just race all the time. Eventually I went to Oregon State University and started racing with the collegiate team. That's when I started to get into cyclocross a little more and drew the attention of Erik Tonkin up in Portland. He had Team S&M and once I got established and started riding for him, I got hooked up with the Kona program because Erik was riding for them.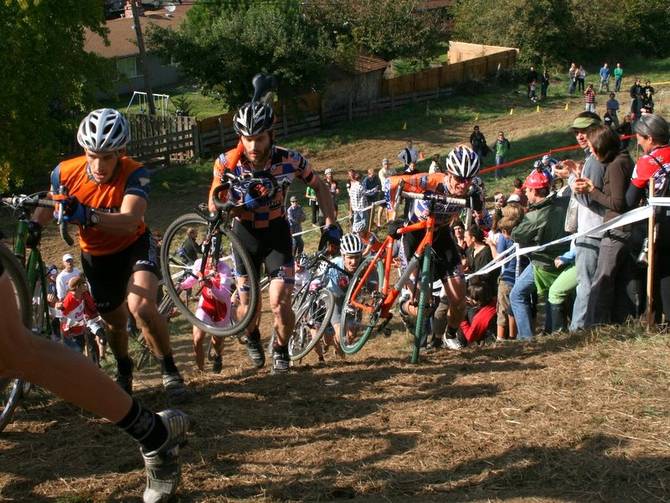 Barry right, Erik center. Photo by Dave Roth.
It doesn't come as too huge a surprise that Erik Tonkin played a mentoring role in your career. It seems like a lot of the Kona guys have come up under Erik's wing.
Definitely. We kind of treat Team S&M as the Kona pro-feeder program. A bunch of the guys like Sean and Spencer came up through that team. It's been awesome. Erik's a really influential racer and does a great job mentoring everyone. He shows you how to really race your bike. It's kind of the school of hard knocks, but it's really worthwhile and makes you a good bike racer.
It seems like you're most well known for cyclocross. Do you consider yourself primarily a cross racer and focus your year around the cross season, do you focus more on mountain bikes, something else?
I actually hold national titles as a mountain biker and I don't as a cyclocross racer, so you could argue I'm more of a mountain biker than cross racer. I think since cross has gained a following in the last four or five and that was when I was doing well in cross people recognize my name from that. But I wouldn't classify myself as only a cross racer or only mountain biker.
I think a guy like Ryan Trebon would say he's a cyclocross racer first and just races mountain bikes on the side. I'm a serious mountain biker and race mountain bikes all summer and come cross season I'm a serious cross racer. I try to do well at everything.

Racing a ProXCT in Wisconsin. Photo by flickr user denali.
You spent this mountain bike season racing, and often winning, 100-mile races and multi-day stage races, which was a relatively new pursuit for you. What prompted you to spend so much time endurance racing?
The last few years I've pretty much stopped doing the traditional Olympic XC races. I used to always race the NORBA series when that existed. Then I started racing World Cups. The last year I was racing the World Cups was about three years ago and I got to the point that I wasn't liking it anymore, wasn't having any fun. It was a ton of travel to bang my head against the wall with the Euro dudes and get 80th place.
I took a step back after that to refocus and figure out what I like in mountain biking. I was drawn to the endurance side of racing. Stuff like BC Bike race and others got me interested. I tried that out and really liked it. Then moved to the Marathon XC races. This year I decided to try some 100 milers cause they seemed like they'd be really fun and it was something new. 100 milers are awesome. They're super hard, but it's really cool also. It's the most adventurous mountain bike racing you can do.
How do you think all that endurance racing is going to translate into your upcoming cyclocross season?
I think it'll be good. I was living in Chicago for a couple years and I really struggled with my fitness and motivation and everything else. But I moved back to Oregon in January and this year seems to have been a lot better for me. Mentally it's been helpful and physically, being able to train with guys like Ryan Trebon is great. I think it'll be a good year for me in cross and I'm really looking forward to the season.
I'm trying to get back to where I used to be in cross. I had a couple of years where I really haven't been riding at my potential. I think the endurance racing will really help. A lot of the Euro guys do a full road season, then race cross. 100-milers are my version of that with mountain bikes.
As you mentioned, there was a noticeable slip in your performance when you were living in Chicago where you dropped from consistently being in the top-5 and -10 back to the 15th-20th range at major races. Why was that city so hard on you?
Chicago was tough, man. There are a lot of cool people up there. But for me, it was really difficult to get motivated to train. You end up riding the same road every day and it gets pretty awful. It was an experience and it was great all-in-all, but I'm really glad to be back in Oregon racing and training with my friends.