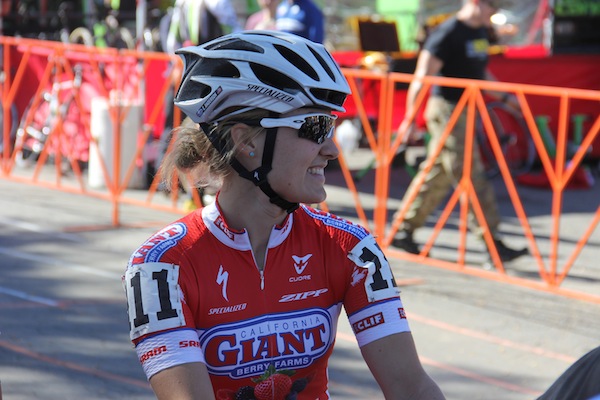 Photo from theroaddiaries.com.
A relative newcomer to the sport of cyclocross, Elle Anderson came into this season swinging hard. She bagged four wins in a row, taking the top step on both days of the Trek CXC Cup and both days of the Grand Prix of Gloucester. To the casual cyclocross observer, it seemed like Anderson had simply appeared out of thin air. I spoke to her about her success so far this season and how it's shaping her cycling goals,  her short career as a cyclist and long history as an elite athlete, balancing a non-racing career with her high-level racing, and much more.
It seems like you made a pretty big jump this year from crushing local races with a few good national level results to dominating the national circuit. What's the deal?
In truth, I don't really feel like I changed that much from last year to this year. It's something I've been thinking about a lot because in some ways my early season results really surprised me as well. One of the things I've been thinking about is that because I didn't really change anything significant, my success is just an accumulation of several seasons of really solid training. There's a big learning curve in cyclocross. Cyclocross really is an amazing blend of skill and strength and there are all sorts of different learning curves when you first start and then when you progress into the elite ranks.
This is my third season racing a full cyclocross calendar and in a lot of ways it just shows that you can't pick up cyclocross in one season. It takes a few years to develop those skills and also develop the power you need to complete the challenging courses. This is only my sixth year as an endurance athlete as well. I started as an alpine ski racer, which uses totally different muscles. So six years ago I had to totally transform all my muscles into endurance muscles. Being an endurance athlete is something that you accumulate and build on each year. Also, I've worked with the same coach for the last five years and I think that continuous development has had a lot of benefit. My coach has really helped me develop as an athlete.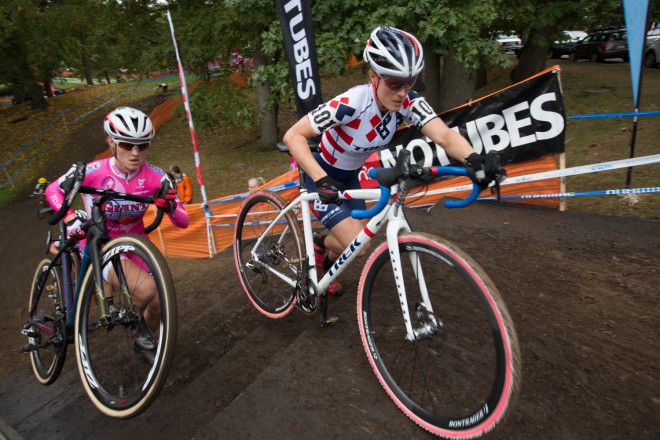 Battling with Katie Compton at Providence. Photo by Wil Matthews from VeloNews.
You said you didn't even expect this level of success coming into this season. Has it changed your goals for the year?
Interestingly, not yet. A lot of it has to do with not really having my early season results sink in yet. It was such a whirlwind. The beginning of cross season is a really concentrated block of racing. Now that my first block of travel is over after Vegas, Wisconsin, Glouchester, Providence, it is beginning to sink in. But I still haven't thought about readjusting my season goals. I feel like the season is just getting started still.
I'd like to be top-5 at Nationals this year. Last year I was 12th and suffering from a pretty bad chest cold in Madison. It was definitely a tough race for me. And I really am fired up to come back to Nationals this year. I really like the course in Boulder. So I want to post a really strong finish there.
And, it's a bit of a reach goal for me, but I would really love to qualify for the Worlds team. Those are my two big season goals.
Jumping back, how'd you get your start in racing?
Growing up, I'd always watch the Tour de France with my dad. He was a big cyclist back in the day. He started cycling when he was in college. That was something we always shared. And my mom was a ski racer, so when I was little I pursued that path. I was a junior ski racer and raced all through high school. In high school I went through a couple of pretty bad injuries and had two knee surgeries. It was really hard for me to come back to ski racing after that second knee injury.
I enrolled in Dartmouth College and was really excited to try something new. I decided to pick up the bike like my dad did in college and I've never looked back. I'm really happy I made that choice. Cycling's been really fun.
What was your path from there to professional racing?
It kind of happened without my knowing. I had a really funny perspective when I first came to the sport of cycling. I was pretty burned out from ski racing, almost to the point that I didn't want to take on a new sport to seriously pursue. Right from the beginning I put cycling in the hobby category. I didn't care where I placed in races, it was just something I wanted to have fun with that would still give me my athletic outlet. Ski racing was wonderful and it brought me all over the world, but after eight years of being very serious about it I was frustrated with the injuries I had.
It feels like just yesterday I was racing in the women's 3/4 races or the women's A races in college and just having a lot of fun with it. I'm really glad I got started in college. There's just such a great spirit and a great community that it makes the process of improving so much fun. You travel to all the races together. You pick things up by following your teammates and the better racers on the team.
I qualified from Collegiate Nationals to be part of the Collegiate All Star team, which races at the Nature Valley Grand Prix, the five day stage race in the Midwest. That was my first time jumping up to the pro ranks. And I really had a blast so I said to myself, "I should keep doing this."

Winning in Wisconsin. Photo from flickr user karlbeck216.
There's a really wide spectrum of what it means to be a professional cyclocross racer in the US, from just getting free gear to collecting a salary. What does it mean to be a pro for a relatively large team like Cal Giant?
It's an incredible honor and an incredible opportunity for me. I've never been part of such a well-supported cyclocross team. The things that I notice most as an athlete are the team mechanics and the gear. It's really amazing to be able to show up to a race and have all those details about your equipment ironed out. I don't have to think about it at all.
Tell me about your work with Strava. Is it tough maintaining your pro-level fitness while working a job, traveling to races, etc?
I work in the technical support department at Strava. We deal with emails from our users that have all sorts of technical questions and serve as that channel for anything else our users might have to say. I've worked in Strava support for a couple years now. I started part time in 2010 when the company was really small.
I really enjoy the work. I spend my day talking to users who are just as passionate as me about the product, which is really fun.
As far as balancing Strava with what I do on the racing side, it's amazing to be part of a company that really understands what I do outside of work. Racing and Strava are in the same world. They offered me an opportunity this year to scale back my work. I'm only working three days a week from now until the end of cyclocross season. That's been a really huge gift. I'm really glad Strava's been able to demonstrate their support for elite athletes. It's giving me the chance to really step up my racing calendar and step up my racing because I have two extra days a week I can spend traveling and recovering. That's made a huge difference so far.
Would it be feasible to make the jump to racing as a full time career?
I don't know yet. It's not something I've really been thinking about. Right now I'm still enjoying where I am and what I'm doing with my racing. I also really appreciate and value the balance I have in my life right now. I really love my work at Strava and I really like that part of my life as much as the cyclocross racing part of my life.
Other than a few of the very top women in cyclocross racing and domestic racing in general it seems like it's tough to make a living as a cyclist. Domestic men too, for that mater. Do you have a sense of how possible it is for people to make a career out of racing full time?
I don't think I really know the answer. But what's really encouraging to me is watching how much the sport is growing. I do really feel like cyclocross is moving such a positive direction. There are so many new cyclists getting interested in the sport. So much excitement about the racing. So many new fans out there cheering. Regardless of whether it's feasible right now for professionals to support themselves with racing, I really feel like it will be in the future because the sport is growing so fast and moving in a great direction.