Adam Abramowicz wants to run a different sort of bike company. Like many boutique brands in the industry, KindHuman sells carbon and steel framesets, apparel, and components. But the profits earned go back, in part, to a youth cycling scholarship and their team sponsorships are based on character first and results second. It's a model Abramowicz hopes will create a welcoming, fostering atmosphere for would be cyclists and racers. I spoke to him about his company's model, their youth scholarship program, the challenges of being a start up in a big, broad industry, and much more.
How did KindHuman get started and what are you hoping to accomplish with the brand?
KindHuman was an idea that stemmed from a cycling team I started a few years back. The team was kind of the antithesis to a lot of things happening in the area I was in. Team and group riders were not at all welcoming to new riders. I wanted to start a team that welcomed new riders and racers without the ego a haven for aspiring new riders to develop their skills and enjoy the heck out of riding and racing their bikes.
At that time, I met Blake Mycoskie. It was right when he was starting TOMS Shoes and I said, "That's the kind of company I want to represent this team." I approached TOMS and they were into the idea. Three years later, the team was going strong but TOMS was not going to re-up their sponsorship. It was then that I thought "what if a company like TOMS existed in the bike business?"
At that point I had some experience working at the shop level (Cynergy Cycles and Clemmons Bicycle) as well as the distribution level (Hawley USA) and manufacturing level (Specialized Bicycles) so I felt I knew enough to give it a try. I spent years developing relationships, testing and developing products and the brand but the difference was that I wanted to give back to cycling through the company. That's when the scholarship idea became central to the company. Shortly after, I met our co-founder and Leader of Operations, Gavin Brauer. At the time he was an established businessman who had focused on corporate citizenship while in business school – so he knew a thing or two about what I was trying to accomplish with KindHuman. He loved the brand and he had been trying to find his way into the bicycle business, so much so that he became certified at Winterbourne Bicycle Institute. He wanted to see KindHuman succeed so he offered a lot of assistance just to help me get the company off of the ground. One day when we were talking he said he wanted to be a part of KindHuman. By that point, we had developed a solid friendship and it just made sense. Without him and the support of the team riders and the support from family and obviously my beautiful wife, Jenni, KindHuman would still just be an idea.
You say in the company's mission statement that you want to help make cycling more accessible. How are you doing that?
I think that there are a lot of companies that do a great job of trying to make cycling the coolest sport in the world (which it is). And they do a heck of a job doing it and I applaud them for it. But the issue I find is that for new cyclists or people who want to get into cycling cycling can look a bit elitist. We have bikes that retail for $15K and a jersey that looks really nice but costs more than my last cell phone, health insurance and internet bills combined!
We're hoping to offer responsibly priced, top-quality, and stylish products. For example, our Kampionne carbon road frame retails for under $2000. When you put that next to other framesets at the same price, you're not going to get the quality of materials and manufacturing that our product can offer. Could we sell it for $3500? Probably.
Our products also serve a dual purpose. Each purchase of a KindHuman product directly supports the Take The Lead Cycling Scholarship. We do say that we want to make cycling more accessible, but most importantly we want to create opportunity through cycling–to be a social pillar for the cycling community through our messaging, our cause, and our products.
Tell me about the KindHuman Scholarship.
Without the scholarship, there is no KindHuman. Plain and simple. KindHuman was created to support the scholarship. For years, cycling sponsorship has only rewarded athletes based on how fast they could go. We're trying to flip that perspective by supporting and rewarding people based on who they are first.
When we say "Sponsor The Future" we mean it. The Take The Lead Cycling Scholarship looks for young cyclists who are not only talented on the bike, but kids that are role models for the sport of cycling. We are looking for kids that are leaders in their classrooms, in their homes, and in their communities. Kids that can shape the next generation of cycling.
That said, we are officially searching for our first two scholarship recipients. One boy and one girl, ages 12-17 in North America. Future applicants can find our Sponsor The Future video contest on our official Facebook page. We urge anyone that knows a little leader to direct them there.
On the personal side of things, what's your own background as a cyclist and racer?
I actually started racing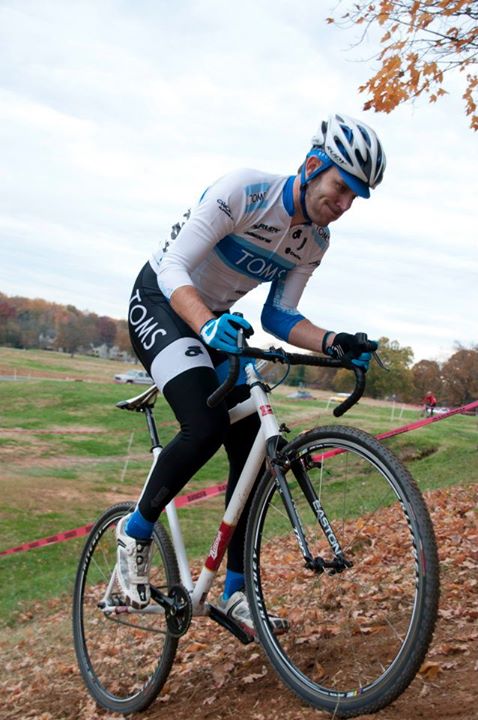 bikes when I was just over 10 years old. All the cool kids were skateboarding but as with a lot of other sports, I was too uncoordinated and goofy for that. My dad took me to Bensalem BMX park and I fell in love with cycling. My dad worked his ass off to buy me a race bike after I genuinely showed interest in it and he was there each and every weekend to take me to the track. I admit I was never great at racing, I'm still not, but my parents supported my passion to the absolute best of their ability. My dad was my tee-ball, baseball, soccer and basketball coach growing up and he was a talented athlete in all of the ball-sports, still is. I wasn't. At all. So I think it made him happy to see me begin to excel at something athletic. He always told me that someday, I'd be a better coach than I was a player. I didn't understand what he meant at the time, but thinking back to that, I kind of see myself as a coach in a different sense through KindHuman.
I still race, but I'm a mediocre racer. Some seasons are better than others. I'm usually off the back in a lot of the early road and crit races, but I find my fitness towards the middle of the season. I don't train, ever. I just ride and I make some rides harder than others. I enjoy group rides, I love the social aspect of it. I love the ebb and flow of the group, the camaraderie. There's a lot of really great and diverse groups here in South Carolina to ride with.
I enjoy racing but I know that I'll never be a professional. Whether I finish in the top-ten or off the back it always hurts and there is always a sense of accomplishment. I race because I love to race.
That being said, I had my best placing ever at this year's HellHole Gravel Grind in Francis Marion State Forest. It was 36 miles of mostly dirt and gravel roads there was maybe a two miles of asphalt. The guys at Mt. Pleasent Velo really know how to put on a great event. I finished in 2nd place on my third ever ride on our Springbok handmade crosser. It was just a beautiful day all around.
Is it difficult for a boutique brand to compete with the big companies out there? What are you doing to create a place for yourself in the market?
Absolutely we can be competitive, but here's the thing, we believe in growing the industry and the industry needs different kinds of companies. You know the saying, a rising tide lifts all boats? We are here to strengthen the industry and cycling on a whole. We are still huge fans of other companies. The big companies like Specialized and Cervelo push the envelope on engineering and design and we (as an industry) need them to do that. The same goes for companies like Rapha and Castelli, they offer some of the coolest and nicest products available. We want to and feel that we can offer product that is just as desirable and on the same level of quality.
There is definitely a place for a company like KindHuman in the bicycle market. As far as I know, we are one of the only companies that were developed as a result of trying to give back to the sport of cycling. It says it right there in our name, kind human. It's who we are and it's what we intend to be and help our customers to be. A lot of companies support charities, and we don't mean to undermine their support, but it's what differentiates us. When a customer rides KindHuman, they are directly supporting youth cycling and the future of the sport. The bigger our company grows, the larger our support can be.
To go back to the first part of your question, so long as people are buying bikes and bike products, the more people there are on bikes. The more people there are on bikes the stronger this industry is. We hope to contribute to that.