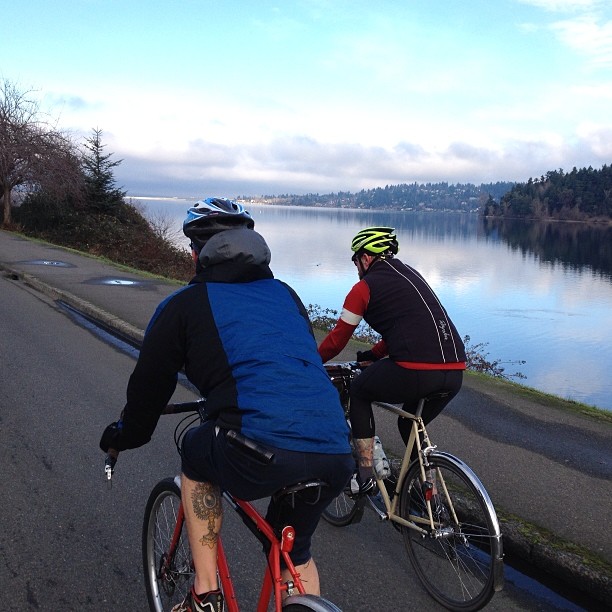 A ride around Lake Washington with friends on Christmas morning. Not out of the ordinary, but a highlight to my year, nonetheless. Photo by Josh Cohen.
Last year was interesting for me as the editor of The Bicycle Story. Growing demands at my real job, a variety of side projects (including the forthcoming Cycling Sojourner Washington bike-touring guide!), and my own questions about the site's direction as it entered its third year, left me with less time and, frankly, less motivation to produce interviews and articles. Nonetheless, 2013 had some of The Bicycle Story's best content yet and readership continued to grow steadily throughout the year. So thank you to all the readers and supporters and willing interviewees. I greatly appreciate the folks that continue to read interviews and continue to share their stories with me. 
With all that said, 2014 looks bright. You can expect more (and hopefully more frequent) interviews garnering insight into the minds and lives and issues of cycling's adventurers, advocates, racers, movers and shakers. In addition, I hope to roll out a new feature or two on the site.
In the meantime, have a look back at the top five most read interviews of 2013.
Cheers,
Josh
3) Kyle Dempster: A Climber's Ride on the Backroads of Kyrgyzstan – Kyle Dempster is a professional alpine climber and has summited many of the world's tallest and most challenging mountains. In 2011, he spent two months by himself riding across Kyrgystan's backroads and climbing mountains enroute. We talked about his wild adventure, bike touring as a vehicle for climbers and disconnecting from the digital world.

4) Thom Parsons: Racing, Interviewing, and getting Boston onto Bikes – Thom Parsons is a former professional endurance mountain bike racer, a cycling media figure, and a bike advocate in Boston. I spoke to him about his passion for bike racing and mountain biking in general, his fall out with Cycling Dirt and the rise of Dirt Wire TV, and the work he does to make bicycling more accessible in Boston.
5) Adonia Lugo: Race, Class, and Bicycling in America – Adonia Lugo is a researcher, anthropologist, and bike advocate. She helped launch LA's CicLAvia, the Seattle Bike Justice Project, and is now the League of American Bicyclist's Equity Initiative Manager. Our conversation was wide-reaching, covering Adonia's work, barriers to cycling created by class and race, American bike advocacy, and more.