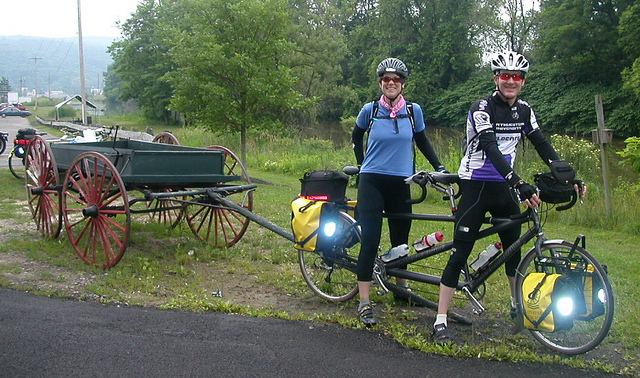 Mary and Ed. Photo courtesy Mary Gersemalina.
Every week, the #ThrowbackThursday meme fills Twitter and Instagram feeds with photos of friends' childhoods, drunken college antics, and old vacations and adventures. On The Bicycle Story, #ThrowbackThursday is an opportunity to revisit great bike adventures from year's past. Today, Mary Gersemalina of Chasing Mailboxes shares a throwback to her first bike tour.
It is June 2005, and my boyfriend Ed and I are going on our first bike tour together. Our route starts in Rockville, Maryland, and from there we will pedal for eight days straight until we reach our final destination of Niagara Falls, Canada. We will not be camping as we've chosen the way of the credit card tour.
Our bike of choice for this adventure is a Cannondale mountain tandem. We have been riding tandem together since for the last six months and really love it. Our tour group consists of a small group of around ten cycling friends (including three tandems!), one of whom is our informal tour leader. A genius at routing, she has carefully plotted out our route and overnight stops.
Neither Ed nor I have much experience touring. I rode RAGBRAI, the cross-state ride of Iowa, in 2004 and Ed has done the Bicycle Tour of Colorado, but we're not really bike tourists. We're more familiar with randonneuring and it is with that mindset that we approach our tour.
In fact, we start this trek one week after finishing the D.C. Randonneurs 600K brevet. Fatigue lingers in our legs from that effort, but it's no big deal, we think. We will be on vacation. What else would we want to do but ride our bike? Our first day on tour is 116 miles, but that's nothing compared to the brevet distances we've been doing.

Photo courtesy Mary Gersemalina.
Because we purchased a full set of four Ortlieb panniers for this trip, we make sure to fill them. In addition to essentials such as tools, a spare tire, and rain gear, we make sure to take multiple on-the-bike outfits, a couple off-the-bike outfits, shoes for walking around, and anything else we can think of that we might miss during the time we are away.
Despite all the stuff we're carrying, we do not want our bike to be slow so we outfit it with 700×28 mm tires rather than wider 26″ tires that might be more comfortable over the distances we're doing. These are the widest 700C tires we can use and still put fenders on the bike.
Over the course of our Niagara Falls tour, we will ride a total of 775 miles over those eight days, averaging 97 miles each day.
While perhaps not known for its mountains, our eight-day odyssey takes us through plenty of gnarly territory in Pennsylvania, New Jersey, and New York. Rural Pennsylvania? Hilly. And all fast descents end at a T-intersection with a stop sign.
Delaware Water Gap? Hilly (also, spectacular). New Jersey? Hillier in parts than I imagined. Ithaca, New York? It's quite a climb away from town. Finger Lakes? Very hilly!
By day three of our tour, I have what I call "tour legs." They have no pop whatsoever and the bike seems incapable of going over 14 miles per hour. Ed must have them too, or surely we could go a little faster. It makes me cranky. Really cranky. I think about what it might be like to saw the bike in half so I could float off into the ditch and nap.
I also develop an insatiable hunger. The furnace, Ed and I call it. Food becomes a primary motivation to keep pedaling. When will we eat next? I pedal furiously. Still 14 miles per hour maximum speed.
Where can I find more oatmeal and pancakes? Pedal pedal pedal. During this tour I discover that oatmeal is my favorite bike tour food.

As the days pass, we wake up earlier and earlier each day so that: 1. we can temporarily satisfy our never-ending hunger, and 2. we can compensate for our slower pace and still cover the day's distance before nightfall. Ed and I begin to realize that 97 miles per day is not our ideal daily touring mileage. We're in too deep now, but we'll remember for next time.
Ed and I have a good time chatting with people whenever we stop. A fully loaded tandem bicycle is an excellent conversation starter. People wonder where we've come, where we're going. I never tire of exclaiming "We rode our bike here! We're riding to Niagara Falls!" It's such an awesome destination and my desire to see the falls also propels me forward.
Occasionally we encounter other riders out for a day ride. They have fresh legs and they carry nothing. I'm so jealous. I mentally reassess all the stuff I brought. I think of all the unnecessary items we end up hauling 775 miles. At 97 miles per day, the only time we really spend off the bike is to eat and sleep. What were we thinking when we packed?
Despite lopping off more miles than we can comfortably handle each day and weighing ourselves down with unnecessary crap, we have fun. The weather cooperates and most of the days are sunny and not unmanageably hot. Ed and I ride a lot of miles solo because everyone has their own pace, but we also ride often with others in our touring group.
The times when all three tandems ride together make for quite a visual. We start saying that any single rider who ends up in our midst is riding in a "pannier sandwich." At the time, it is hilarious. Touring makes us all goofy.
We see beautiful places. We ride through Amish country in Pennsylvania and see people using horse-drawn buggies and riding kick bikes. In New Jersey, we tour by a group of birders eyeing an osprey nest, where the baby osprey is poised to take his or her first flight. As we pass the Hawk's Nest overlook on the Delaware River I feel like I'm truly far away from home.
On the outskirts of Ithaca, New York, we pause to rest our legs and take in a waterfall. Somewhere in New York, we stop and tour an old lighthouse. Generally, though, we see the sites from the perch of our saddles, as this tour demands a lot of forward momentum.
Our final day is 113 miles to Niagara Falls, Canada. For the most part it's mercifully flat, but headwindy. As we enter Canada, we somehow end up on a freeway, complete with clover leafs and all. I'm pretty sure we were not supposed to end up there, but drivers pity us and give us space.
We eat dinner with fellow tandemers Steve and Lynn at Niagara on the Lake, and ride over to see the falls and eat ice cream. Night has fallen, but nothing can dim the immensity of Niagara Falls. We turn our bikes away from the thunderous rush of water toward our hotel and fireworks explode around us as we ride the final miles of our bike tour.
Ed and I start laughing. We have made it to our ultimate destination and there are fireworks going off to celebrate our arrival. Tomorrow, we rent a minivan and head back to Washington, D.C. We have pedaled vigorously together for eight days straight to be here. Tomorrow our bodies rest and we will begin basking in the memories of our adventure. In this moment, life is bliss.
Thanks to Mary for sharing her story! Learn more about Mary in this January 2014 interview!