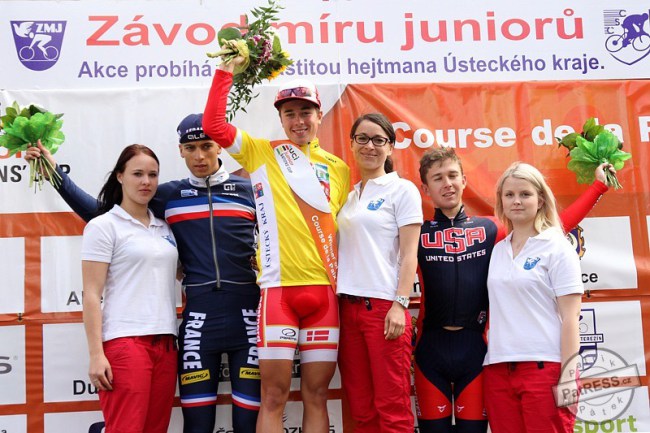 Soigneurs may very well have the most thankless job in professional cycling. They take care of the grunt-work details necessary to keep a pro team running smoothly while remaining mostly anonymous. Sara Clawson is a sports massage therapist in Greensboro, North Carolina who's making inroads to a soigneur career. This spring, she spent two months working as a soigneur with the US elite junior team at USA Cycling's training center in Sittard, Netherlands. Over the next month, Sara's writing (originally posted on her blog) will shed some light on the "swanny life" as she recounts her experience traveling around Europe working with the next generation of American professional road cyclists. In part four, Sara takes us through the four stage Peace Race in the Czech Republic which saw American juniors racing to the podium and crashing hard enough to warrant a ride in a Soviet-era ambulance.

We're back home in Sittard after a whirlwind tour of Bohemia with another race on the books, this time the Course de la Paix, or Juniors Peace Race. Litoměřice, where we stayed, was a rather beautiful old town with a feeling of old-world European grandeur reemerging from the Soviet era drabness. The area has a rich history as one of the oldest Czech towns. It dates back to the 2nd century and served as a major trading capital of the region in medieval times. More recently, the whole region underwent German occupation during WWII and the nearby walled city of Terezín, where the race was headquartered, was used as a Nazi concentration camp, crematorium, and Gestapo prison. The Peace Race was originally established after WWII as a symbol of international goodwill and sportsmanship.
We were housed in the hockey training center, which was a perfectly convenient and serviceable facility with dormitory-style living arrangements and an eating area for meal, bottle, and race food prep. The hockey facility housed our team as well as the British, French, and Russians. A total of 23 national teams competed from Europe, North America, and the Middle East. The Peace Race is part of the Juniors Nations' Cup races, a series of events all around Europe, one in Kazakhstan, and one in Canada in which national teams of 17- and 18-year-olds compete among the highest-level junior road cyclists to earn Union Cycliste Internationale points for World Championships entries. Of the 11 races in this year's Nations' Cup, the Peace Race is considered by many to be the most challenging.
This year's edition certainly proved a challenge for everyone involved. We had mechanical issues with the team car halfway across Germany, and the mechanic and director ended up having to send me ahead with all 6 riders while they got the car towed for repairs. The one rider on the team who had been to the race the previous year alerted me to the getting an entry permit sticker for the van and helped guide me through the tortuous single-lane mountain road to Litoměřice. The director and mechanic arrived shortly thereafter and we headed to dinner in the beautiful and expansive cobbled city square.
The next day, riders had the opportunity to preview the time trial course and part of the first road race stage, while our director and I made a trip back to Germany to retrieve the repaired team car. We hoped that my basic, broken German would be somewhat helpful in negotiating the transaction; it turns out "diesel filter" in German is "dieselfilter," so no obstacles there. We headed back to Czech where I cooked one of my many variations of rice for the team (I think it was red curry rice that night?) and did sports massages for each rider.
It's no surprise that the United States national team selects only the best of the best junior riders, but I am constantly impressed with the young people I have encountered in my involvement with juniors cycling. Their unbridled passion for the sport transfers into a conscientious approach to all aspects that will potentially benefit their racing. They are a kaleidoscope of personalities, from boundless effervescence to the strong, quiet, old-soul countenance. Watching them interact with one another was fascinating to see the mutual respect and recognition of strengths develop among the team, and they began to strongly identify with their established roles as the race progressed. Their reverential respect for their director reflected their confidence in his unparalleled expertise as a coach of champions. These are the kind of young people who will lead future generations to thrive and flourish, whether they continue to pursue sports as a career or take the lessons in leadership and teamwork they are learning into other avenues of life.
My role with the team was similar to the work I did in Bretagne, except for being their only soigneur and also responsible for preparing all their meals and race food. The Peace Race is notorious for providing borderline inedible meals for riders and staff, and having meals on site instead of having to travel to the primary school in Terezín made for a much logistically smoother experience for the riders and staff. All I had to work with was a rice cooker and an electric kettle, so I drew largely from my camping cooking repertoire. I figured out how to hard-boil eggs on the first day, but dumped half the pot of boiling water on my foot and developed a nice collection of painful blisters. Other dishes included Mexican, Thai, Persian, Asian, and Italian-inspired incarnations of rice and quinoa. To say that young cyclists eat like horses is to seriously overestimate the amount that horses consume — next time I have to cook for a team and staff, I will have a more realistic expectation of the quantity. If it's enough to feed an army, you should probably add at least three servings to be safe.
The Race
Stage 1 was an exercise in persistence for everyone involved, with pitted pavement, steep skyward climbs, narrow roads, dangerous descents, buffeting cross-winds, and energy-sapping cobbles. When they passed through the feed zone, five riders were with the main group and the mechanic in the team car alerted me to wait for one rider who had been dropped. Nearly 15 minutes after the peloton had passed, he came heaving up the hill alone. I passed him a bottle and yelled at him to keep fighting it, knowing that he still had another mountaintop climb ahead of him. The race organizers establish a time cut of 20% of the winning time and I was concerned that he wouldn't make it. The best case scenario at that point would be that he would be the "lanterne rouge," the last rider in the race (named for the red light at the end of a train caboose) and he could serve as a domestique for the others, fetching bottles and using his position to advance the race for his teammates.
The team made it back to the finish with three in the main pack, one trailing behind after a poorly-timed flat tire on an inaccessible stretch of road where the team car couldn't execute a proper wheel exchange, a third limping in after a crash (no broken skin but a very sore and battered body) and the dropped rider far behind crossing the line last. I forgot to start my stopwatch at the leader's time and didn't find out until the next morning that he had failed to make the time cut and was out of the race. The rider who crashed was also randomly selected for anti-doping control and had to be ushered off for testing.
The second day consisted of a double stage, which is common in major juniors stage races. A short but difficult morning time trial ended in triumph when the team captain posted the 2nd fastest time of the day, securing a spot on the podium and 2nd place in overall general classification for the race. The afternoon road race was too short to permit feeding, so a challenging day for the riders was actually the easiest day for me.
The third day was a queen stage: the most demanding mountain stage of the race featuring long, steep climbs and a mountaintop finish. This type of stage is intended to separate the strongest riders and provide opportunities to make up significant time and open gaps — or to lose time if disaster strikes. I set up the feed zone at a small, gently uphill section in a huge mountain meadow just past the major climb, and it was one of the fastest and best feeds I have done. They were easily exceeding 45 kph even on the incline. All the riders spotted the van and my wind vest, and spaced just far enough apart that I was able to get a bottle to every rider. That kind of thrill just doesn't get old.
Coming up to the mountaintop finish at a ski resort just over the German border, four riders managed to sneak away ahead of our team leader and took out just enough time to bump him down into 3rd general classification position. I have been going to bike races for a decade and I have seldom seen a rider bury themselves that deeply. Rarely do most people have the opportunity to witness that kind of dedication to anything and it is extraordinary to see.
The fourth and final day featured a course similar to the first day, but with three laps of a smaller but by no means easy mountain climb before the run-in to the finish. I staked out my position on the climb for the feed zone early enough to see the pack come through the first lap before feeding was allowed, and I was delighted to see all five riders hanging in there with the group and looking strong. On the second lap I passed a couple of bottles and everyone was still with the group, so I packed up the van and drove directly to the finish. Minutes later, one rider crashed hard on the descent when the Hungarian in front of him slipped out on a wet patch of pavement and he plowed into the fallen rider at high speed. The director and mechanic put him into the team car battered and bloody with the intent of handing him off to me on the next lap but I had already left. Four riders remained with the pack as it roared through a curve and into the finishing straight, but another rider hydroplaned on a puddle and crashed out to come limping across the finish line. He was lucky — his shorts were shredded and he had patches of road rash on his hip and arm, and a small cut on his leg that bled profusely and looked much worse than it was. His heart rate monitor saved his chest; his jersey was completely torn away but the protruding heart rate monitor sensor on his sternum took the impact and was ground down on the pavement like a rough belt sander. I was patching him up when the race medic came over and said the other crashed rider would need a team staff member to accompany him to the hospital to treat his injuries. I grabbed his passport, ran to tell the director, and hopped in the ambulance with my rider.
They say that mothers, in extenuating circumstances when their children are in harm's way, can pull off superhuman feats to protect their babies. The closest thing I have to a child has four legs, a tail, and fur, but after that ambulance ride I can understand the impulse. He had suffered a nasty scrape and gouge to his hip, cuts and road rash on his arm, a skinned knee, and a blunt impact to his thumb which was swelling up like a water balloon. The race medic had already taped over the majority of broken skin so I couldn't see the extent of his injuries, but they were clearly more than a minor crash and he was in a lot of pain. The first thing he asked me was if his teammate still got third — what a true competitor.
The Czech ambulance was a Soviet-era minivan with peeling exterior paint, a backboard on a gurney, and a couple bucket seats with split upholstery and no seat belts. I crouched next to the gurney and held onto the rider's seat, who in turn held onto a door handle with his uninjured hand. The driver put on the siren and we whizzed by a long line of stopped cars stuck in race traffic into the lane of oncoming vehicles. I briefly considered the irony of meeting my final reward in an ambulance crash.
We arrived at the hospital and he limped into the ambulance intake waiting room, a naked cinder block structure with concrete floor and a few plastic chairs. It was absolutely surreal, like something out of a movie. An orderly ushered us into the intake room and instructed me to wait while the rider proceeded to the treatment room to have his wounds cleaned and dressed, and I once again experienced that feeling of a mama bear wanting to rush in and take care of him. Despite the eerily institutional feel and padded doors, the nurse's methods were thorough and modern as she irrigated and dressed his cuts and scrapes. Another hospital staff told me in broken English that I would need to produce his insurance card, or pay at the time of treatment. I explained that I had the USA Cycling credit card and was good for any charges he would incur, and that seemed to satisfy them. Once he was bandaged up, he was wheeled into radiology for x-rays and while we waited in the dimly lit waiting room, he seemed to perk up and joke about the whole experience. He had turned 17 the day before and was glad not to have crashed on his birthday, and he mused that on the bright side, his injured right hand might get him out of doing homework for a while. Once the x-rays were read and he was cleared of any fractures, the staff released him and sent me to pay his bill — at the same moment, the mechanic and team captain arrived and greeted us. The mechanic accompanied me to the front desk and we viewed the final tallied bill: 302 Czech koruna, or about 11€. The fine he had incurred the previous day for riding on a sidewalk during the race was more than 10 times his bill for an ambulance ride, triage, and x-rays. Say what you will about second-world medicine; if I need a minor medical procedure, Czech hospitals are looking pretty appealing.
With everyone taped back together in mostly one piece, we proceeded to lunch at the primary school in Terezín, which was every bit as appalling as I had been told. I found the only products that didn't contain some form of unrecognizable meat: stale bread and a cup of weirdly brown but fairly tasty applesauce and a glass of incredibly weak Tang.
With lunch accomplished, we loaded up and drove halfway home to Kassel, Germany, about 4 hours away. The lodging and food experience was a night and day stark contrast, almost shocking to the system. I had an excellent dinner of herb crepes stuffed with locally grown white and green asparagus, new potatoes, delicately poached pearl onions, and a luscious cream sauce. I can only describe it as euphoric. Breakfast was a similarly enticing buffet of homemade fruit jams, artisan breads, exotic juices and delicate smoked salmon and speck. It was definitely in my top 10 breakfasts of all time.
I set about changing bandages and Tegaderm, loaded everyone up, and we made it back to Sittard in the early afternoon. By 5 I had finished cleaning up the van, restocking supplies, and doing laundry. And that brings us up to now — the first time in a week I've had time for a blog entry!
The juniors have a few training days this week until we leave again on Friday for a couple of one-day races in Belgium, and Three Days of Axel in two weeks. I may actually get some time for a bike ride, and lots of time for recovery massages and continued treatment of healing scrapes and bruises. I'm grateful for a few days of slower pace, but I am surprised and delighted at how much I find I thrive in the hectic heat of a stage race. I am learning quickly to keep a mental checklist of every responsibility and getting much better at thinking on my feet with the situation calls for improvisation. I got a great taste of minor crisis management and as much as I hate that any of my riders were injured, I'm glad that their injuries were relatively minor and I was able to get a good look inside the drama of cleaning up a crash. I am sure that I am getting a much more thorough, educational experience in soigneurdom than I would have at the UCI soigneur training program.
This is truly an outrageous career and the people who are exceptional at the job, I think, must have a little bit of loose screws to handle the absurd amount and type of work all for the love of bike racers. But maybe I have that tiny touch of crazy myself?