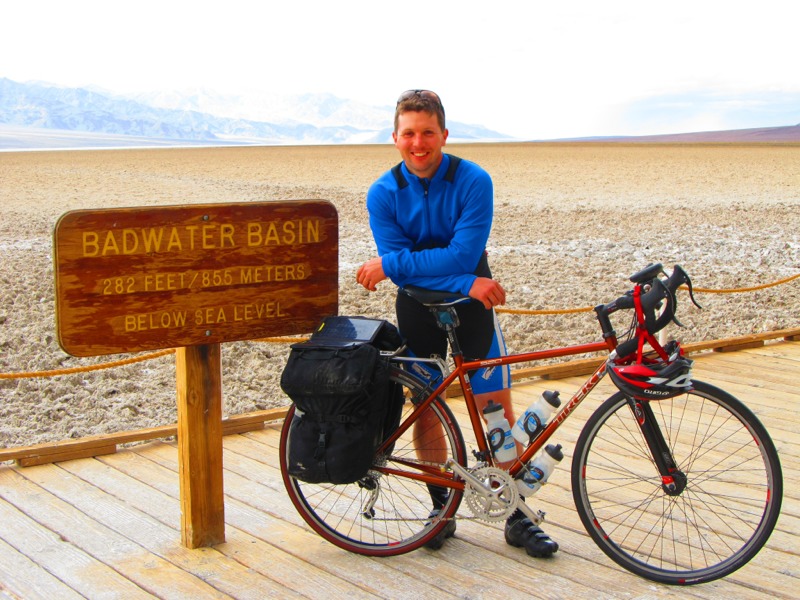 At the start of the tour. All photos courtesy of Chris Figureida.
Bike tourists often talk about metaphorical highs and lows. An amazing sunset over a breathtaking vista, an endless climb on an empty stomach; they're the moments that help capture the essence of the ride in its retelling. When Chris Figureida tells the tale of his latest adventure, he has a very literal low and high to which he can point. The low: Death Valley, the start and end to his tour. The high: 17,200 feet up Mount McKinley, the highest peak in the United States and the halfway point for Figureida's 5 month, 7,761 mile, round-trip bike tour.
According to Figureida, a half-dozen or so other cyclists have done the ride from Death Valley to Denali. He says he is the first to ride it round trip. The 31-year-old set out on this tour in large part to raise money for the American and Canadian Heart and Stroke Associations and Rotary International's Polio Plus. He raised about $4,000 on the ride. But he also took on this journey to sate his strong sense of adventure as an avid mountaineer and bike tourist.
Figurida set off from Death Valley, California in March of this year. He rode through Nevada and Idaho, across Canada, and eventually up the desolate, icy Alaskan Highway to Denali National Park. The plan was to then ski 60 miles to the Mount McKinley base camp before summiting the peak.