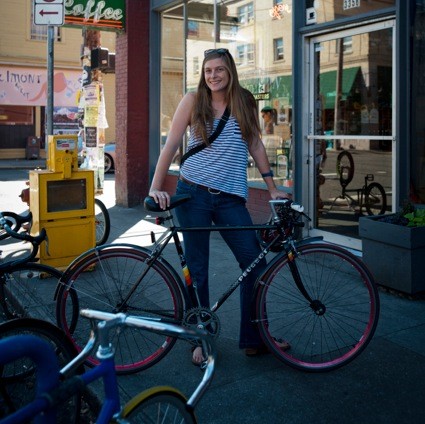 Anna Brones, author of The Culinary Cyclist. (Photo by Luc Revel)
We cyclists tend to think about food a lot. What to eat before a ride, what fuel to bring with during, the perfect recovery meal. On a long ride, I often find myself plotting my exact post-ride meal with at least a quarter of the route still to go. But if I'm being honest, I'm thinking far more about the number of calories I can stuff down rather than the quality of that food.
Anna Brones, on the other hand, cares about quality above all and has written at length on the value of whole, real foods and their connections with cycling. She is an American author and cyclist living in Paris. Her book, The Culinary Cyclist, is part collection of healthy recipes and part meditation on how to live a simple, satisfying life through the intentionality of cooking and cycling. In this interview, Brones discusses her book and the thesis that food and bikes are essential factors for quality of life, her inspiration for writing it, life as a cyclist in Paris, and more.