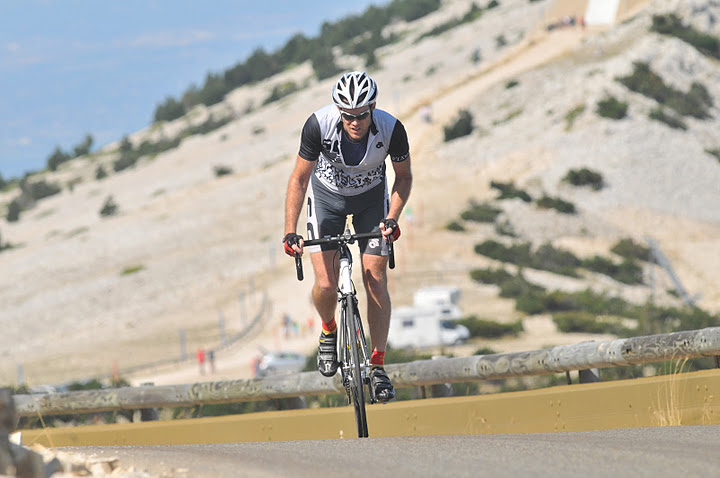 Paul Rozelle on one of four ascents of Mont Ventoux. Photo from Picasa.
Mont Ventoux is one of cycling's great monuments. The highest peak in Provence, it's been featured 18 times in the history of the Tour de France and the source of high drama and tragedy. Every year, the mountain draws huge numbers of recreational cyclists wanting to test themselves on the climb and connect with a tangible piece of cycling history. This year, Paul Rozelle joined those ranks and tackled the mountain as well.
Rozelle is an American randonneur. He traveled to France this summer to ride Paris-Brest-Paris and decided to take a side trip to Mont Ventoux three days before the start of PBP. Rather than simply ride it once, Rozelle rode each of the three roads and the unpaved fire road that lead to the summit in order to earn a medal that the Club des Cinglés du Mont Ventoux awards for doing so. Adding to the extraordinary difficulty, Rozelle rode the whole thing on the only bike he'd brought for PBP, his fixed gear. Three days after completing the Mont Ventoux challenge, Rozelle went on to ride PBP in 80:01!
Rozelle wrote a great ride report on a randonneuring Google Groups listserv about his experience on Ventoux. He graciously gave me permission to republish the story here along with some photos he took that day. The report is long, so I've added links below to the start of each "chapter" to help you navigate and/or pick up where you left off if you don't read it all in one sitting. Enjoy!