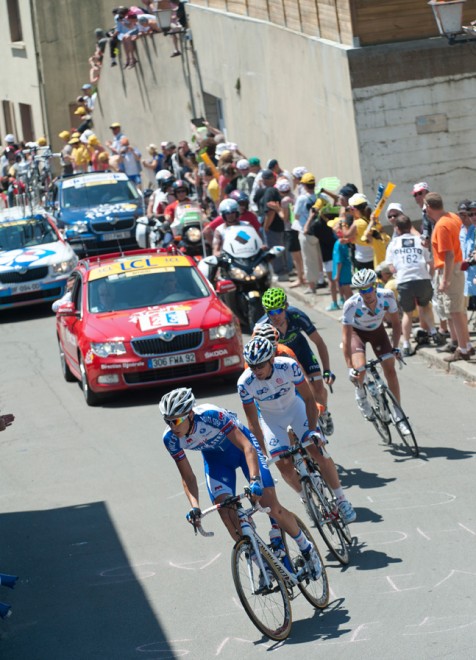 The break in Stage 3 of this years race.
All across America today, people are celebrating Independence Day (and hopefully not actually on the internet like yours truly is right now). It is, at its essence, a celebration of historical achievement by our brilliantly tactical founding fathers. As such, it seems appropriate (if not only tenuously connected) to share this great essay from Red Kite Prayer that draws parallels between the 1976 Tour de France and the 98th incarnation of the race, currently underway.
The essay's author, Bill McGann, argues that the brutal climbing of this year's Tour, combined with the dearth of individual time trials, not only make it a climber's race, but a race that will be decided by the best tacticians as the 1976 race ultimately was.
The 2011 Tour is a victim of Tour boss Prudhomme's war on time trialing. With four summit finishes, yet only 42.6 km of individual time trialing and no white-road or pavé stage to lend balance to the race, it is effectively a climbing championship.

That brings to mind the 1976 Tour with it's back-to-back eight stages of climbing plus a Puy de Dôme hilltop finish. Yes, there were 89 km of individual time trialing in 1976, but that year the mountains overwhelmed everything. Also, it featured a war between the era's two best climbers, Joop Zoetemelk and Lucien van Impe. Perhaps there is a parallel to 1976's brutal war in the mountains in the coming match between 2011's most prominent contenders Andy Schleck and Alberto Contador.

Zoetemelk, the better climber that year, lost the race because of a profound tactical failure in the face of Cyrille Guimard's brilliant management of van Impe. The only major errors that I can remember Contador committing (I'm sure RKP's readers will remind me of others) involved his dallying in the back of the peloton and missing important moves. I doubt his new director, Bjarne Riis, will let the Spaniard sleep at the wheel in this Tour.
For those of you readers in the U.S., I hope you're out riding on this holiday. But make sure you get your proper dose of historical reading tomorrow as you nurse your patriotic hangover at work.