Kyle Dempster is one of the top alpine climbers in the world. The 29 year old has pioneered new routes on some of the tallest mountains including Baintha Brakk in Pakistan and K7 in the Karakoram. He has won two Piolet d'Ors and several Golden Pitons, awards that recognize mountaineering's greatest accomplishments each year. In 2011, he spent two months on a solo expedition, bike touring the backroads of Kyrgyzstan and climbing in its many mountain ranges. The video footage he gathered on the trip was recently turned into a short documentary, The Road From Karakol. I had the opportunity to speak with Kyle about his Kyrgyzstan trip, combining biking and mountaineering, the highs and lows of solo touring in remote and rugged terrain, the future of bikes in the climbing world, and much more.
How did the Kyrgyzstan adventure come to be?
Originally it was a trip my girlfriend and I had planned to do together, exploring mountains via bicycle. But then she got into a pretty bad ski accident in the spring. She broke her arm and decided that going on that trip maybe wasn't the best thing. So I decided to go by myself. Kyrgyzstan, as a climber, is certainly a place that beckons a visit at some point.
While the country is very mountainous, there wasn't really one particular mountain that spoke to me more than any of the others. That's pretty different from a trip to say Pakistan where you're climbing a major route. They're such a monumental undertaking, you really have to have the time and energy and motivation and money to go climb one of them. But in Kyrgyzstan the mountains are smaller and there are lots of them. That was when the bike component entered the idea.
I thought it'd be cool to climb a bunch of different mountains, riding around and climbing whatever looked good. I had a very general idea of all these ranges I wanted to check out. I actually wish the trip had been twice as long, because I only made it to about half the places I wanted to go. That was fine. It gives me a reason to go back, I guess.

Kyle (left) in his element on top of Hassan Peak in Pakistan. Photo by Kyle Dempster from alpinist.com.
Had you done any extended bike touring like that before this trip?
No, never. That was another intrigue. I'd done some long distance backpacking on the Pacific Crest Trail when I was 18. I really liked the slower method of travel. And the green component of cycle touring is cool. So I really wanted to experience what a long distance bike tour felt like. I don't know if this was a very traditional long distance bike tour. I thought that was what I was signing up for, but it turned out some of the roads I was on were unbikeable.
What was it like doing a climbing trip by bike versus some of your more traditional expeditions? Was it really limiting or was it just about the same (other than traveling a lot slower)?
There were pros and cons, definitely. More than anything I'd say shit yeah, I'd do it again. I would also encourage other climbers to consider that method of travel.
There are limiting factors. One was that I could carry maximum two weeks of food with me at a time. And that was a damn heavy bicycle. So you spend a couple days pedaling out to the range. Then you want to climb. It just doesn't leave you many days of backup food in case the weather turns shitty and you have to sit around for a few days. When you get dropped off at basecamp by a vehicle you've got a month of food. But not being able to carry a ton of stuff with you is the beauty of it as well. In the end, I'd definitely do it again.

One of those less bikeable "roads."
Two months of solo traveling like that definitely gives you time for contemplation. What were some of the high points of the trip?
I have a really hard time with repetition or monotony. I couldn't do the 9-to-5 office job. Doing the same thing every day would be really bad for me. The Kyrgyzstan trip was was so new for me. Really the first couple of weeks, I had to keep refining as I went along. I really found satisfaction learning a new activity.
I think the movie does a pretty good job of showing people the power of family and friends and love for me. That video camera definitely became like a live journal for me in their absence. I thought a lot about family friends and wished they were all there, but that was a good thing.
Did you find it difficult to spend so much time alone? There were whole weeks you went without seeing another person.
I enjoy the solitude every now and then. I think sometimes this world gets a little overwhelming with how crowded it is. It's super refreshing to seek out these experiences. It could even be just a couple of hours after you get out of the office. Or weeks at a time. Just be alone, by yourself in a place that inspires you and requires a lot of you as well. It's valuable to face challenges on your own. It instills growth, dealing with independence and self-reliance. Those are pretty powerful things.
This is especially true with how connected everything is electronically nowadays. It's insane. You run into a friend you haven't seen in a couple of weeks and they already know everything you've been up to because they keep up with you on Facebook or whatever else. It's good to disconnect and check back in with yourself and your soul.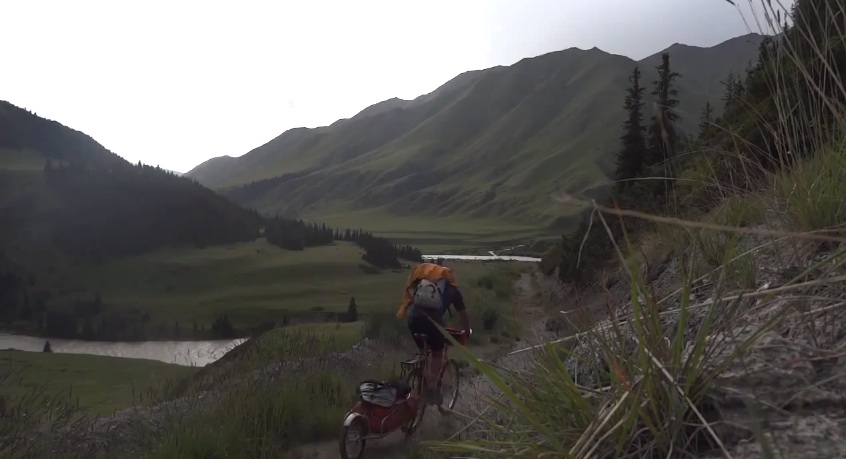 There's an intense scene in the film where you're worried about drowning on a river crossing and you say goodbye to your loved ones, just in case. As an alpine climber you must face life and death situations somewhat regularly. Was this situation different or more intense somehow?
You are right about alpine climbing. I'm very, very close with my family. Before going on trips, I like to feel like my family is supportive and psyched for me to go. Certainly the conversation about death comes up. So we come to good terms before I go. That's actually the main reason I pulled the plug on going to Pakistan last week.
I think in Kyrgyzstan it was because that experience of crossing a river was so new to me. I'm not a kayaker, I'm not a boater. I live in the desert. I don't spend a lot of time in the water, so it was really terrifying for me. Having already crossed a couple major rivers there, I was pretty damned concerned about it.
You already mentioned that you could see yourself combining biking and climbing for future expeditions. Do you have any destination in mind or do you just generally want to try it again?
Yeah, I want to try it again and I want to go for a longer tour. I've been thinking about flying to Istanbul in Turkey, then riding east to get to Pakistan. There's a lot of climbing along the way there and that's a part of the world that really interests me. So maybe I'll do that someday.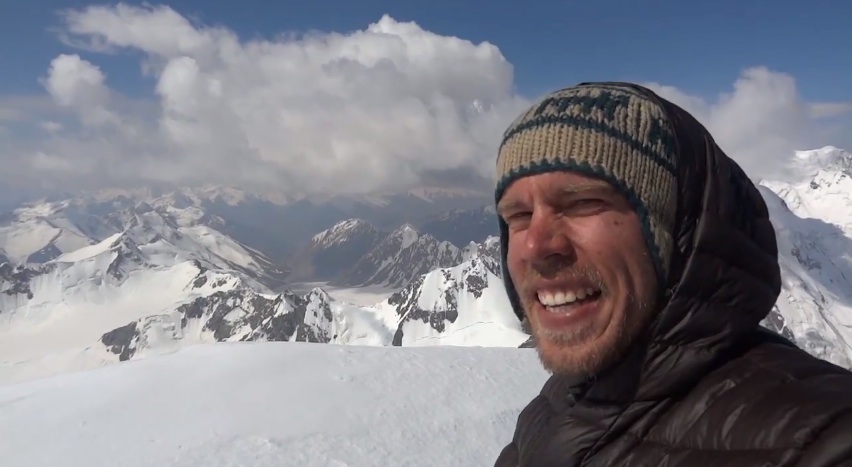 On top of a Kyrgyzstani mountain.
The companies backing climbing are always pushing athletes to do newer and harder and more unique climbs. Combining biking and climbing seems like 1) it possibly opens up new areas to explore that might be less accessible by vehicle and 2) is definitely still a unique way to do an expedition. Do you think because of that it could catch on?
It's interesting; one of the interviews I recently did was with a guy who's really into bike accessed climbing trips. He saw the film and was psyched that it was helping create momentum for this concept. He was like "you've started this revolution!" I didn't mean to do that; I just went and had fun.
It'd be rad if this caught on. It would change the climbing agenda a little bit. In climbing right now, the community as a whole is primarily geared towards harder, faster, first ascents. I'm definitely part of that and I'm still compelled by hard, technical faces. But it's nice to slow down sometimes as well. I think that would be good for parts of the alpine climbing community to participate in. I found Kyrgyzstan as powerful and rewarding as any climbing trip I've been on in the past.
What's next for you? You mentioned your Pakistan expedition was cancelled recently. Do you have other plans in the works?
I'm trying to figure that out right now. That just happened a few days ago. I don't know if you heard about the massacre at the basecamp in Pakistan. That's the reason we pulled the plug. I still felt OK about going, but my family was not at all psyched.
So now we're trying to put together an alternative. One of the funniest responses I got to the film was from my uncle, who lives right outside Anchorage, Alaska. He's an avid packrafter. He sent me a text that said "saw the film, just an idea, but maybe you should've brought a packraft and saved yourself a lot of the drama."
He asked me if I wanted one. He's the president of the American Packrafting Association. He's going to send me a packraft; we're going to buy my girlfriend one, then maybe go to Canada and do some sort of climbing and packrafting trip.