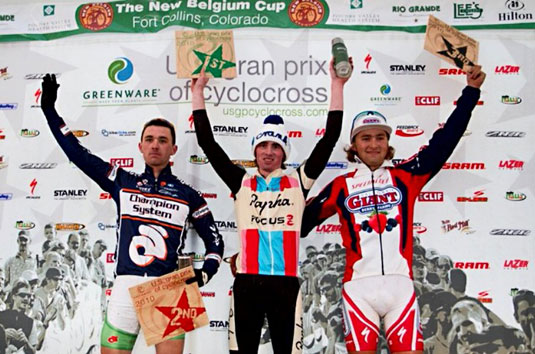 Photo by Wil Matthews. Source: Rapha Focus.
Zach McDonald is a cyclocross phenom. The 19-year-old from Bainbridge Island, WA has only been racing for a few years, but already has two national titles, has podiumed at a world cup in Europe, and is racing as a professional for the new Rapha Focus team. I talked to Zach about balancing the demands of life, school, and professional-level racing and his experiences racing in Europe and America.
How did you get your start in cyclocross? How long did it take before you started racing at the elite level?
I heard about cross from the folks at my local shop, Classic Cycles. They said I should give it a try since I had a mountain biking background. I bought a tiny Bianchi Axis and started racing cyclocross when I was 14 or 15. I mostly just cruised around in the woods and tried out a few local races without really training. I had fun, so the following year I went to nationals and raced the 15-16 juniors race. Same deal, no training, just went and raced. Ended up somewhere in the 10-15th place range, but wasn't really bummed since I hadn't done anything to prepare.
The next year, my first in the 17-18 category, I started thinking more seriously about racing. That year I went to the first USGP down in Lousiville, KY just to see what it'd be like. My uncle lived there, so it was easy to make the trip. I did pretty poor, I think I got like 15th and 9th, which is somewhere towards the back half since there are usually around 18 juniors. But I felt like I could do better so I went to the next USGP in Jersey and placed higher than I did in Louisville, maybe 5th place. After the Jersey race, Geoff Procter approached me about Euro Cross Camp.
I got my ass kicked racing in Europe that year, but I'd gotten second at Nationals, so I thought that since I was maybe good at cyclocross I should try a lot harder. So for my second year as a 17-18 junior I started racing and training with some structure. I did well and was happy with all my results in my last year as a junior (1st at both USGP Portland Cups, 1st at Nationals, 3rd in Roubaix).
When I went back to Europe I had some team fiascos and ended up without a team for my first year as a U23. I was supposed to sign with a European team and had a few talks with the team manager, but it ultimately fell through. I talked to a few other teams in March and April, but nothing ever came of it. I pretty much raced unattached other than some great support from my local shop Classic Cycles. They've always been huge supporters and are still holding a fundraiser for me to help pay for Euro Cross Camp again. Racing in Europe is not cheap.
Last January, I started talking to Slate (Olson), head of Rapha USA, thanks to an unnamed rider who recommended me for the team. We chatted back and forth for a while and I got brought onto the team. There was a little bump when some sponsors pulled out and the original team folded in June, but we rebuilt it and Focus came in as the bike sponsor.
I've heard that you're an accomplished XC and downhill mountain biker too. Is that true?
I started riding and racing downhill since I was about 12. It's the most fun type of riding and what I always wanted to race. When I was really young I wanted to race motocross, but motorcycles are expensive and there wasn't a track on Bainbridge, so they were out. I got into downhill because it was the next best thing, but even then I wasn't racing because there wasn't really a downhill series in the area. We eventually got the Fluidride series and I started racing that. I'll definitely race downhill again in the spring.
How much do you think that's influenced your cross racing?
It's definitely helped me a lot. When I got 2nd at nationals it was all because of the bike handling skills I had. I didn't have anywhere near the same fitness level as most of the other racers, but it was such a sloppy course that I could carry more speed than other people and conserve energy. I'm definitely a proponent of off-road riding. But, all my training is on the road on a cross bike with road tires. I pretty much spend the whole summer on the road. I need to build my road power and speed more than I need to work on bike handling.
Are you going to try and race at a pro level for mountain biking as well?
It's sort of a goal. I've done a few pro downhill races and some pro cross country as well. My last year as a junior I did the whole world cup and Worlds thing. Then last year as a U23 I went to Europe with the US national team to do a couple of races, but they went pretty poorly. I ended up hitting my races at an awkward time. I was racing the week before finals and I had just come off of a peak and was tanking really hard. When I got to Europe I just imploded. So I took a break from racing mountain after that.

Photo by Balint Hamvas. Source: Cyclephotos.co.uk
Having raced in both Europe and the US why do you think the Euros are A) so much faster and B) have a stronger cross scene?
It's kind of a chicken and the egg thing, but since they're competing at such a higher level at all their races they're definitely used to the speed and all that. When one of us goes over there to race it's kind shocking. Even if you're mentally prepared for it–at this point it doesn't take me by surprise–the starts are so fast that it's a shock to the system and you have to recover really fast. It's a whole different environment in that regard.
As far as how they build themselves as racers, cycling over there is more of a blue collar sport. Over here you definitely need some money to get into cycling. Over there it seems like if you work really hard at cycling you can get a nice paycheck so it creates a stronger work ethic. There's fewer distractions too. Someone like me, I'm going to school full time during race season. I have time to ride, but when I have to travel for races it adds an extra level of stress. I still have to study for stuff, etc. That's not something they have to deal with. Their life is "ride my bike, race my bike."
What do you think it will take for US pros to start winning world cups and the world championships?

Well, Jonathan Page got second at the world championships a few years ago. Danny Summerhill got second as a junior. Tim Johnson got second as a U23. And Matt Kelly won worlds as a junior in 1999 and then kind of disappeared.
But there's no consistency. You look at all those riders, even Page, they're all kind of one shot wonders at Worlds. They happen to have a good race that day, but can't necessarily repeat it. Part of it is that it's really expensive for Americans to go to Europe. My ticket for Cross Camp is going to be$1200-1400 plus you have to pay to have a mechanic over there. I'm going to have the $125 per day camp fees, so my trip is going to end up being almost three grand for two weeks in Europe. Then I'll be back for two and a half weeks, then I'm heading over again. So another $900+ plane ticket. Then more travel costs on top of that. When you add up the cost of the month in Europe it equals at least the cost of your first two months of domestic racing if not more.
Prize money in the US kind of helps off set the costs of racing in Europe, but when you're racing in Europe you don't get prize money.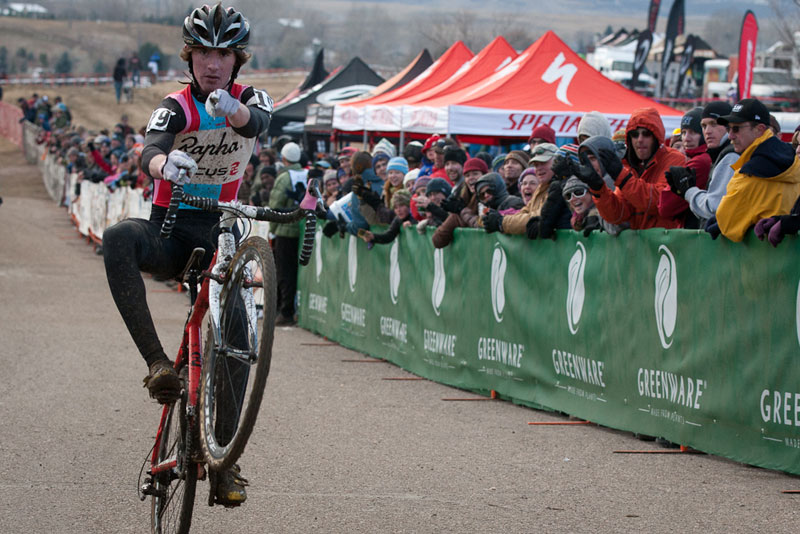 Photo by Wil Matthews. Source: Rapha Focus.
Do you think there's a way for Americans to compete consistently at the Euro level, or is the cost and jet lag and all that always going to throw a wrench in that?
It probably depends. Page competes somewhat consistently. If he's got a good race he gets 8th, if he's having a mediocre race he's around 15th. So it's definitely possible, but it's important not to bite off more than you can chew, otherwise you'll just crack yourself when you're over there.
Everyone's starting to gear up for (the 2013 Worlds in) Louisville. A lot of Americans have their sights set on that race, of course, so it'll be interesting to see what happens.
You've kind of already answered this question, but is it tough balancing a pro race schedule with school? Have you ever considered putting school on hold to pursue racing?
Fall quarter of school is definitely taking a back seat to racing right now. I've been fighting a losing battle with school this semester, my math finals were on the Saturday of Nationals, so I had to drop the class.
Once I kind of figure out what I want to do with my life, I might take a break from school. But, for now I'm trying to get my general ed out of the way.
I want to be in school for the next couple of years. One of my reasons for being school is to just be there and have something to do. If I'm not in school I'm on Bainbridge and that's shitty. There's nothing to do on Bainbridge. So being in school allows me to move forward on general ed, gives me something to do during the day, and allows me to be in a way more social setting than if I was at home. There are no young people on Bainbridge.
Other than probably having the most expensive kits in cyclocross, what's happening with the Rapha Focus squad after this season?

The sights are definitely set towards worlds. It's a new team, so there were a few small issues this year. But I think things will be even smoother next year and I see it getting bigger and better as we move forward. I'll be getting faster, Chris (Jones) will be getting faster. Chris is still kind of new to cyclocross.
I'm super happy with my results this season as of November. I'm not bummed with my October results, but they weren't quite as good as I'd hoped. That said, I've never raced in October before this season other than local tune up races.
Next up we've got Jingle Cross, then USGP Portland Cup, then Nationals, then off to Europe.
Anything else you'd like to say about life as a 19-year-old pro?
Definitely pretty stoked on where I am in life right now. I've got no complaints. Thanks a ton to Rapha and Focus for helping me out this year. Same with my coach Matt Hill. And Classic Cycles for helping me a ton in the past.