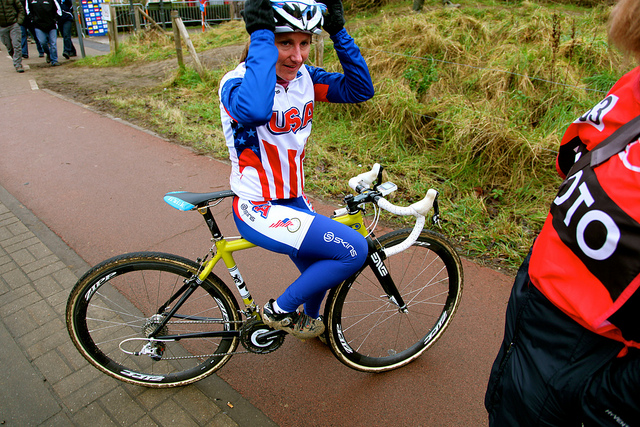 Amy at the 2012 Cyclocross World Championships in Koksijde, Belgium. Photo by Mat Howie
Note: This interview was conducted in May 2012. In October 2013, Amy was hit and killed by a truck while on a training ride in Belgium. It was a tragedy that rippled through the American cyclocross community. I'm just glad I was able to capture this glimpse into her life and career. The Amy D Foundation was launched in the wake of her death to support young women racers.
When Amy Drombroski gave up ski racing for a new found love of bike racing in 2006, she didn't mess around. She won the U23 Cyclocross National Championship her first full year of racing. In 2009, she took the U23 National title in cross country mountain bikes and then, just a week later, took the title on the road as well. Now, Amy's spending her cyclocross season in Europe, chasing world cup titles and learning to race in their deep, fast, aggressive fields. We talked about the ups and downs of Amy's short but full cycling career to-date, how she earned the nickname "Cross Diva," the growth of women's cyclocross, and more.

How did you first get started in competitive cycling?
I grew up alpine ski racing in Vermont. Once I graduated from high school at Burke Mountain Academy, I followed my older brother to Colorado to pursue my ski racing in Steamboat Springs. A second knee injury took me out for the majority of the winter so I joined my brother in Boulder who lent me his bike to use for rehab. I quickly realized I didn't miss the ski racing, but I did miss the competition. So I tagged along with my brother to a criterium and was quickly hooked, despite my pedal falling off!
Take me through the short version of your path from those early days of amateur racing to your professional cycling career.
My first race was in May of 2006. I had so much fun racing that summer that come winter I wasn't ready to stop and I certainly wasn't keen on getting back on skis. My brother had this sick love of cyclocross so of course I followed him there. And though I struggled like mad and hated it, I was somehow hooked. That year I won the U23 National Championships. I hadn't won many races or competitions so it was a new feeling, like a drug. I couldn't get enough of cycling and I started mountain biking too, but since I tried road racing first, I pursued it the most. I raced on a local Colorado team for 2007 and the next year got a spot on Webcor. I was thrown in the deep end my first year with Webcor, racing World Cups and stage races in Europe and in Australia. It was an incredible learning experience and a massive arse kicking. I feel very lucky to have been part of the team.The next year road races kept getting canceled from the calendar so I added in more mountain biking and culminated that season with a U23 National Championship win on the mountain bike and a week later a National Champ win on the road bike. With the mountain bike title, I decided to pursue mountain bike racing the next year with Luna. But throughout all the switching I realized cyclocross is where my heart belongs. Luna was another great experience but the focus was US racing and my stubborn-ness prevailed—I wanted to race in Europe. I left Luna and was lucky to find Crankbrothers as a perfect sponsor.
Together we built the Race Club which was meant to be an off-road women's team. I quickly realized I was in WAY over my head with Euro World Cup mountain biking but the cyclocross was what I was mainly interested in. Crankbrothers gave me infinite freedom in my '11-'12 'cross season which allowed a full European cx season. Â However, they decided mountain bike racing needed to be the primary focus of Race Club. So with my dreams and goals in cyclocross being too important to sacrifice, the dreaded search for a new sponsor continues…!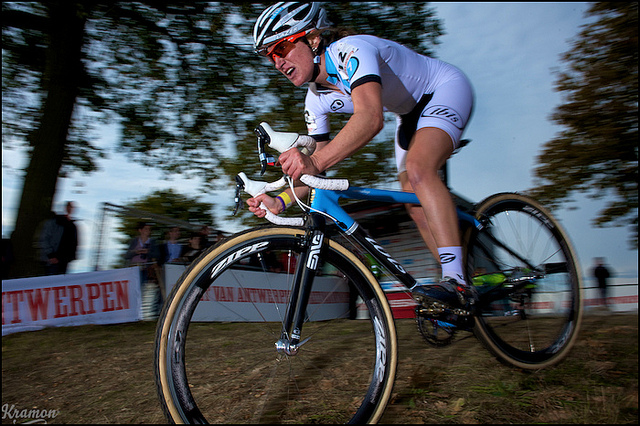 Koppenberg Cross, 2011. Photo by Kristof Ramon
As you mentioned, you spent nearly the entire 2011-12 cyclocross season in Europe. How was the experience for you, both racing and otherwise?
In a word: tumultuous. I had some of my highest highs and lowest lows. My high was my 6th place World Cup finish in Pilsen. My low was hardly being able to get out of bed when I was sick in December, missing a month of racing and training. It was grim for a while but I stuck it out and finished the season on an OK note. I loved living there. It was a much more simple lifestyle. Simpler, genuine, hard working people. In addition, the close proximity of all the races made it so I didn't board a plane from the day I flew in, September 28th, until the day I flew back to the US, February 28th.
Did your European campaign have a positive impact on your racing? Are you planning on going back for another full season there?
I loved everything about racing in Belgium. It was the most challenging season I've ever had and I learned so much that I believe it would be a massive waste to not return this winter. The course variety and challenge was one aspect of it. I got in the habit of watching prior year's races on YouTube because I didn't know what I'd be facing at the race—sand, hills, woods, running, barriers, obstacles, etc. Another aspect I learned through error is how to balance it all. It's a metric shit ton more races than I have taken on before, so to learn how to balance training, rest, racing is an integral part of the equation. A third aspect I noticed was the deepness of the competition. Don't get me wrong, the competition in the US is wicked fast. We have Katie Compton and Katerina Nash racing in the US regularly and they have both won World Cups and finished on the Worlds podium. But the level drops off quicker and all in all is much less aggressive. I had to sharpen my elbows and growl more—whether I was racing for a top 10 World Cup finish or simply trying to finish and not get lapped when I was ill (and shouldn't have been racing). You will battle the entire time for a top 3 or a top 40 and I think that pushed me more every weekend. I fully intend on spending the winter in Belgium again, if no other reason than for the bakeries.

Louisville USGP with the "infamous" re-branded wheels. Photo by Lyne Lamoreux.
Richard Sachs has said some very strong words in interviews about the fall out between you and he around you leaving (being kicked off of?) his cross team. What, in your words, happened in that situation?
Wow, I thought this saga was done with! This is what my nickname Cross Diva stemmed from. In short, the bike was too heavy for me so the Diva kicked off. At the time I thought re-badging wheels would be the ticket. It would appear I was racing sponsor equipment, but it could be light enough for me to be happy. What I did was very unprofessional. In sponsorship you race what the sponsor has to offer. The sponsor is proud of their product and they knows what their product looks like. In this case it was obvious the hubs were not sponsor correct. I hurt the sponsor and more than anything, I put the team's sponsorship in jeopardy. Everyone on the team could have been hurt by what I did.
Have there have been any lasting effects from that fall out?
Well the Amy Dombroski Cross Diva t-shirts have become my supporter t-shirts …
Fortunately Richard and I have both moved on from it (I think) and Richard has been very cordial to me and supportive. I think and hope that people see the fall out for what it was—that I'm stubborn and picky.
Though women's participation is increasing and progress is being made (Exergy providing equal payouts for men and women at the USGPs comes to mind), cross is still a male dominated sport. How can the cyclocross world—promoters, teams, the industry, etc—get more women racing?
It is happening before our eyes. Nothing can happen over night. The UCI made a step forward last season by requiring all C1 races to include a women's race. This didn't have quite the statement in the US as it did in Europe because men & women are treated quite equal in the US in cyclocross, thanks to the USGP, Exergy, Stan's No Tubes, and others. But in Europe the fields seemed to increase throughout the season. We were allotted more & more time on the telly, start money grew, spectator turn out increased, and more respect was given to us in regard to start times, etc. If the money and treatment become consistently equal then more women will be able to justify traveling about to theses races at the elite level.
As far as beginners, again I think this is happening, slowly but surely. Clinics are happening throughout the US thanks to the majority of US women being wonderful ambassadors to the sport. This absolutely helps. I've done a few women's only and kid's only clinics and I think this is a big part of the growth—eliminating the intimidation factor of being grouped with the men. Patience is key, it is happening, we just need to keep pushing it. It's similar to chasing down a break. If one person goes to the front and goes ape-shit it won't do anything for the extended period of time. But if a team or two go to work on the front and slowly ramp up the pace there is a much better chance of reeling in what we are trying to achieve.