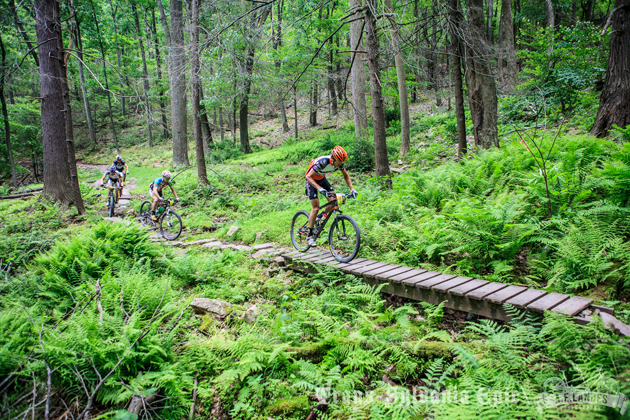 Barry Wicks at the 2012 TSE. Photo via TSEpic.com
A lot of people love cycling. For one reason or another, it's a sport that lends itself to obsession. Mike Kuhn has been showing his love and obsession with over two decades of riding, racing, race promotion, and advocacy. He's perhaps best known for putting on the Transylvania Epic, a seven day mountain bike stage race in the heart of Pennsylvania. He's also the man behind IronCross, an endurance cyclocross race, along with many more road, cross, and mountain bike races through the years. And though two decades of race promoting is inarguably an example of giving back to the bike community, Mike is also heavily involved in trail advocacy. He and Transylvania Epic co-founder Ray Adams launched a nonprofit The Outdoor Experience Organization in 2009 to raise funds for mountain bike trail building, maintenance, documentation and outreach in Pennsylvania. I had the chance to speak with Mike about his history in bike racing, the rapid growth of the Transylvania Epic and endurance racing, his vision to revive a small PA mining town with a high-quality trail network, and more.
What's your background in riding and racing?
I got into riding just before college, so about 23 years ago. I raced for the Bucknell cycling team in school. After college I didn't know what to do, so I raced more and more. I got pretty good and got to tour around and race in different parts of the country. I was more road focused at the time, but was still mountain biking.
It was in college that I promoted my first event. I enjoyed that experience and had the opportunity to hold some races on my in-laws' farm. We've got a 100 acre farm and we've been putting on events for 15 years out there. I just love this sport; I love all the parts of the sport.
It was maybe 15 years ago that I heard about Trans-Germany, one of the first mountain bike stage races. That planted a seed for me that very slowly germinated into the Transylvania Epic.
Were you organizing mountain bike races on the family farm?
Yeah, we were doing mountain bike races. Through the years I've done a little bit of everything with promoting and racing. Cross, road, mountain bike. The farm has been a spot for both mountain biking and cyclocross racing.
One of the first mid-Atlantic cyclocross events was held there. That's going back 10 years. We've had a stage race there. Now we have the International Intergalactic Global Open Mountain Biking Relay Championship of the Multiverse. And we have a cross version of that too. You're pretty much allowed to call yourself whatever kind of championship you want and I think we've covered all the bases. I believe it makes the winners of the event the undisputed champions of everything. So we're stoked to have that at the farm in little Marysville, Pennsylvania.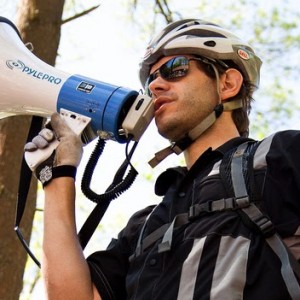 Tell me about getting Transylvania Epic off the ground. You mentioned you were inspired 15 years ago to create a stage race, how did it go from there to reality?
I'd seen some of those very early endurance races. I think there was a Tour VTT. Trans Germany was one of the early one. I know how good the riding is in Pennsylvania.
The East Coast gets a little shortchanged sometimes, but I knew we have thousands and thousands of miles of trails and dirt roads that are world class.
Over the intervening years we started a team called Visit PA. It was sponsored by the Department of Tourism. It was a pretty successful team for a while. I got into that with a good friend of mine Ray Adams. We ran the team and as the team was running out its course, we got to talking about trying to launch this multi-day stage adventure in PA.
We obviously had pretty good contacts with the Department of Tourism. And they expressed some interest in it. The original idea and approach was going to be much different than what we have right now. This was the year before the economy crashed and we were in talks with the State to have a more standard-model mountain bike stage race. You have tent cities and you move from place to place each stage. The economy fells apart, the impetus dried up very quickly for that kind of race, and we had to reevaluate where we were.
It took a bit of scrambling to figure out how to do the race. We looked around the state to figure out the best place to hold the race. State College has, since the dawn of mountain biking, been an integral place in PA for the sport. The early Coburn races, the first 100 mile races with the Wilderness 101. Those style events have been going on there for a really long time and there's a wonderful network. There's an incredible club up there, the Nittany Mountain Bike Association.
So we found this scout camp outside of State College, called the Seven Mountains Scout Camp from the Juniata Boy Scout Council. It is right smack-dab in the middle of amazing trails. We've been able to stretch the race to seven days, returning to the camp every night. The stages are 25-45 miles, with very little repetition throughout the week. It's a real wonderful resource to have all that stuff in one place.
The event is great. People love coming to camp there. They love the camaraderie that a week of mountain bike adventures brings. They say it's kind of like the summer camp experience they remember from their early teenage years, translated to mountain biking plus with beer. It's just really fun.
You sort of just hit on why Transylvania Epic is succeeding. But, it's been impressive how much its grown over the course of just a few years, from a relatively-small event with mostly regional-level pros to one with an international draw. Why do you think the race has grown so quickly?
We work hard at it and that's part of it. It's a year-long process to pull the thing together, or more. I'm already working on 2014 and we're still a few months out from the 2013 race.
We've developed some wonderful relationships with out partners. NoTubes has been incredible right from the get go. Dirt Rag has been a big supporter. PacTimo, too. All these guys who came on board early. Hammer Nutrition have been wonderful. It's evident the kind of support they're giving when you come to the event and see the things we're doing.
BMC came on board this year. SRAM and Answer Products did too. Having that kind of support from the industry has been huge. We've also developed some great press relationships, in addition to Dirt Rag. We push that hard and it develops the exposure for the event, but also the participants. These guys come, they love what they're doing. The word of mouth has been really good. But also, for someone like Jeremiah Bishop or Amanda Carey who come out and do the event, they're getting eight or nine days of national and international level coverage for themselves and their sponsors.
It's kind of all built on itself. Those guys want to come and get that exposure. It helps us produce press for the event that people want to read, that helps us tell the story of the event. And people think its fun. They come out and enjoy themselves. Even the international caliber pros, they love to ride their bikes and that's what they're doing and the story spreads.
I think the key to our success is that it's really, really fun. I keep coming back to it, but it's the fun you have in a week of mountain biking on great trails.
Mike with a racer at the 2010 TSE. Photo via thesecretlifeofadirtdiva.com

Endurance racing in general seems to be blowing up these days, with lots of former cross country racers focusing on longer events. What's so appealing about 100+ miles days of offroad racing?
I think it's the adventure. The word's been overused, but it's the epic feeling you get from being out there for four hours or 24 hours or a few weeks if you're doing a race like the Great Divide. There's a different atmosphere around the events that lends to their success. There are people there for the experience and the adventure and that makes the atmosphere a little more fun perhaps. People are more willing to hang out afterwards. It's not just come in, race for an hour or two, go home. It's more culture, it's more tribe, it's more soul; however you want to say it, that's a really appealing part to the endurance stuff.
It's suffering just like anything. If you go hard and you go long it's going to hurt, and that appeals to people. All of us doing endurance sports are a little strange that way.
Also, the challenge is there. If you've been racing, and especially if you've been racing cross country for a long time, you get to the point of wondering what else you can do with your bike. We're seeing the same thing happen with cyclocross, too. People have these bikes that are awesome. It's really fun to do cyclocross, it's a wonderful sport. But you race for a while and you start wanting to see what else is out there. That's why the gravel-style events are taking off. That's why the ultracross series and our event Iron Cross are picking up. It's the next step for a lot of people.
I understand you're involved in an effort to build a new trail network near Harrisburg. Tell me about that project.
When we founded Transylvania, we founded it to raise funds for nonprofit the Outdoor Experience Organization to do trail enhancements and creation in Pennsylvania. Everyone who's coming to TSE, sponsors who support it; they are helping with this mission of making more and better trails in PA. One area we're particularly interested in working on is outside of a town called Lykens. Lykens is an old mining town, coal mining. The extraction companies left in the early 80s. The town has survived, but doesn't have the feel that it once did.
There is an IMBA Epic trail called the Rattling Creek Trail Network outside of Lykens. It's got about 30 miles of really great stuff. We put on the Rattling Offroad Weekend there in August. A lot of people consider it the best endurance course on the east coast. I think that speaks very highly to its appeal.
The problem is, it's not connected to Lychens or the other towns in this valley. It's not connected to the town and there's a lot of people in the town that don't even maybe realize there's this wonderful resource there. We see a lot of potential to help the town of Lykens and the Lykens Valley move into a recreation based economy, or at least have an economic engine from outdoor rec. So that's our goal, to make the trail connections in the Valley; hopefully have some other towns come on board.
The Department of Conservation and Natural Resources (DCNR) is excited about this. They have several tracts of land that they're interested in having us use to expand the network. We think we can at least double the mileage of trails and create green and blue level cross country trails. A lot of what's up there right now I'd consider blue to black XC. There's potential for some flow trails. There's a lot of elevation there that hasn't been utilized that we can do some really cool things with.
Hopefully we can create a major East Coast destination out of this. There's a possibility here to connect these towns in such a way that you could start in one, ride to the next one for lunch. There's a rail-trail going in so that family can come out and you can do some riding with them. It's a major goal of ours to do everything we can to make this happen. We're working with Lykens to do a feasibility study for them. We've had a professional trail builder come in and take a look. We're starting to get input from different user groups about what they would like to see.
It seems like this sort of conversation about the economic impact of cyclists is happening more and more these days. It's mostly been in the context of long-distance bike tourists who ride through small towns and spend money. Have you heard about other trail network projects having an impact on rural towns?
It's certainly been proven in a few places. In Colorado, Leadville is good example of a place that's had a lot of success with event-based recreation. It's helped to attract other users. The events they hold there bring in thousands of people a year, which has done a wonderful job of driving that economy. There's the Bailey Hundo in Pine, Colorado. They are working really hard in a similar mode. These Colorado towns and some others out west have a similar story. It was an extraction economy for a long time and so what's there may not be developable.
In Lychens, much of the land is tied up in watershed property, DCNR property, and PA State Gamelands property, so it's not going to be developed. It's old coal mining so it's maybe not great for a whole lot of other uses. You drive into this valley and there's nothing but these two ridges on either side of it. It could be a playground for outdoor recreation.
Raystown, which is about two hours up the road from Lychens, was a very successful project. It's kind of unique in that those trails sit by themselves. There is no town next door to it. But the studies being done are showing that within one to two years, the project, which cost three-quarters of a million dollars has paid for itself in increased revenue in the area from recreational spending. And it's primarily mountain bike use on those trails at Allegripis.
I think the evidence is out there that this works. It's more than just putting in the trails. There has to be a plan for the trails, a plan for the marketing, a plan for the maintenance. Unfortunately it's not just build it and they'll come. But as you go down that road and you put on some events there and get the marketing, it can work really, really well.
Is there anything else you want to say about your work, your racing, your mountain biking?
I don't know if there's a whole lot to add there, but I will tell you about one thing we're getting ready to do with Transylvania. As I mentioned, we brought BMC in as a sponsor this year. They're doing some very cool stuff for the event. The thing I'm most excited about is they're donating a bike we're going to raffle off. You'll be able to buy tickets at events throughout the year and on the website, TSEpic.com. It's going to be a 2014 model, same level that the team's riding, which is the TE02 or FS02 model. And we're going to couple that with entry to the 2014 Transylvania Epic. And proceeds are all going back into trail networks. It's an opportunity to come do a fantastic event, maybe get a really cool bike out of it, and contribute to some really good things happening with mountain biking here in the state.