Katie (center) with the United Healthcare team. Photo by Jonathan Devich via uhcprocycling.com.
Katie Hall is the sort of person who makes you question your time management skills. As a first-year professional for the United Healthcare cycling team, she's racing a full American road season and dipping her toes into the waters in Europe at the Women's Tour of Britain and the Giro Rosa. She's also a full-time graduate student working on a PhD in molecular toxicology at UC Berkley. I spoke to Katie in a brief moment of spare time after she returned from Britain about her experience in Europe, late entry into the cycling world, balancing life as a neo-pro and grad student, the on-going evolution of women's professional cycling, and much more.
How'd the Women's Tour go?
It was good. It was so, so cool and also so, so hard. European racing is a whole 'nother level than American racing. It's just better developed than American racing. I didn't really know what I was getting into, even though everyone tried to describe it to me. It was really hard and really fast. The roads are really different in Europe. There are a lot more obstacles in the road there than here. I had a hard time with positioning. My job was just to stay at the front and it was a challenge. But it was a really good experience. I'm excited to race more in Europe. We have a race in Italy this summer. This was my first taste of what it takes to be successful.
I assume you were there as a domestique. Who were you working for?
Yup, that was definitely my job. The Women's Tour was a little bit bigger race than our team normally aims for. We were hoping to get some stage wins for Hannah Barnes who's one of our English riders and a really good sprinter. After the first day, Sharon Laws found herself very clearly in the competition for the King of the Mountain jersey, so I was trying to help her get KOM points. But I was a little in over my head and was not as much help as I would have liked to have been.
How did you get into bike racing in the first place?
I got into commuting one summer of college. Then when I started grad school, I already knew I really liked riding my bike and was new to the city and wanted to meet people. I thought the cycling team seemed like a cool group of people and especially a cool way to explore California. I was in grad school at Cal. My first year I went riding with the Cal cycling team almost every weekend. It was a super cool way to get away from the stress of grad school and explore the state and have a lot of fun.
I raced a little bit of mountain bikes my first year. I think my first ever mountain bike ride was a race with the Cal team. I had no idea what I was doing. Mountain bike season's in the fall and road season's in the spring, so I think I did one or two races in the fall then got more serious when spring rolled around and road racing started.

Racing at Redlands Cycling Classic in California. Photo by Jonathan Devich via uhcprocycling.com.
What was your path from there to the professional ranks?
I raced a pretty thorough road schedule for the collegiate season, which is February to May, my first year. That was 2011. Then I went to collegiate nationals that year. I didn't do too much racing the following year. I was focusing heavily on my qualifying exams for grad school. I also had a nagging injury. Last year, I got a lot more serious. I raced collegiate and did pretty well, so I got invited to race on a composite collegiate all-stars team for Nature Valley. That was my first race on the national racing calendar with the pros. It was a stage race in Minnesota. I went there and it was super cool. And then I went to one more NRC race with my amateur team in August last year. I did a lot better at that one than I did at Nature Valley. At the end of last season, I started applying to pro teams. Now I'm on United Healthcare.
What does the process of applying to a pro team entail?
It's funny. It's like applying for a job. You send in your resume with your results and pictures of you and a little blurb about yourself. Then you send it to all the directors. It's like any job. They consider all their applicants and give you a call and do an interview.
I always had an image of people getting recruited to pro teams from nationals or other big races.
Maybe that's how it happens for some people. But that's not how it happened for me. I think most people have to apply, unless you're so phenomenal that teams come after you.
How's it been trying to balance getting a PhD with pro racing?
It's hard and I'm still trying to figure it out. I talked to my advisor a fair amount when this opportunity came up. I have his support and that's the only reason this is possible right now. I'm really thankful for that.
I get up and ride my bike really early, then go to lab for the whole day when I'm in town. I wish I just had more time in the day. I don't get to ride my bike as I'd like to and I'm not making as fast of progress on my PhD as I'd like to. But I wasn't happy just working on my PhD, so having bike racing in my life really brings me a balance that I need. It's worth being so busy because it's so fun to race your bike.
Given the balancing act you've got to do for your PhD, do you feel like you're able to get the training volume to compete at this high level of racing?
I'm not sure. I think I do get enough training in, but I always wonder a bit. The thing that I got warned against a lot as a first year pro is to not over train. Everyone says that's the most common mistake first year pros make and I feel like having this full time job really prevents me from making that mistake. In that way, it's not the worst. You really can't ride your bike all day everyday, so having something else to do when you're not riding is not a bad thing. The thing that's hard is getting enough sleep, getting enough good food in, all the other things that are part of recovering that, if you have more time in your day, you can do well. Those are the things I think I'd benefit more from than just training.

On the front at Redlands Cycling Classic in California. Photo by Jonathan Devich via uhcprocycling.com.
What's it like going to races with United Healthcare, a relatively-small International team? Are you cramming six people into a motel room? Staying in luxury team RVs?
That's what it was like with my amateur team. When we'd travel to races, we'd usually put six to a room. Now we have two people in a hotel room and every time it happens I'm still like, "oh man, I get my own bed! I'm not sleeping on the floor!" I've been through that. That's how it goes when we're all paying for it ourselves.
The United Healthcare team is an extremely professionally-run team. There's more staff than there are riders a lot of the time. It's really cool not being stressed with taking care of the details and being able to just focus on bike racing. That's a huge, huge element of the team. We've got a bus that we take everywhere that's really cool. When the weather's terrible you can wait on the bus for the race to start. In Europe, our bus had showers on it. It rained every day in England, so to finish the race and take a shower on the bus was just so nice. You could start your recovery on the way back to the hotel. It's the small details that help you really focus on bike racing.
You're part of a next wave of female professional cyclists. Do you have a sense of how things are shifting in women's professional racing? It seems like there's a lot of momentum right now. Do you think it's getting easier, that there are more opportunities for young riders as things progress?
It's a process. It was really interesting racing the Women's Tour in Britain. I never imagined so many people could watch a bike race. We raced around 70 miles every day and most of the road was lined with people. I think they said some of the days there were 10,000 people out watching the women race. That is pretty crazy to me. I went straight from a race in New Mexico to the race in Britain. In New Mexico we were up in the desert where there are no people anyway. We were in a national forest far, far from civilization.
Part of women's cycling developing is there needs to be an audience for it. The reason we get to race our bikes as a job is that sponsors can get their message out through us to their audience. Having an audience is part of that picture. As that grows, as people get more interested in women's cycling, more opportunities will arise for female cyclists. I'd like to see more teams, more racers, higher salaries, bigger prize pots. All these things go together and it's hard to have progress on any one of them without progress on all of them. It'd be cool to have women's cycling be as big and as popular as men's cycling is. I think most people know some male cyclists, know the Tour de France. Your average person probably can't name a female cyclist or name a big women's race.
It's growing really fast right now and I'd like to see it grow a lot more in the future.
Clearly you have goals outside of cycling, since you're working on a PhD. What do you hope to accomplish with your cycling career?
I'm still figuring out my goals. I'm so excited to be on this team because it has really fantastic bike racers on it. People who've been to the Olympics and won medals. To be able to hang out with them and see how they got to where they are, how they've accomplished these things, is really cool. I'm so new to this sport, I'm still figuring out what I'm capable of. I want to take cycling as far as I can take it. I just love it so much. I'm so excited to be where I am right now racing the national circuit and some international races. We'll see where it goes from here.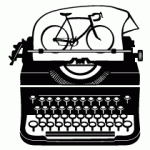 Like what you read on The Bicycle Story? Support the work with a donation or by buying a shirt.