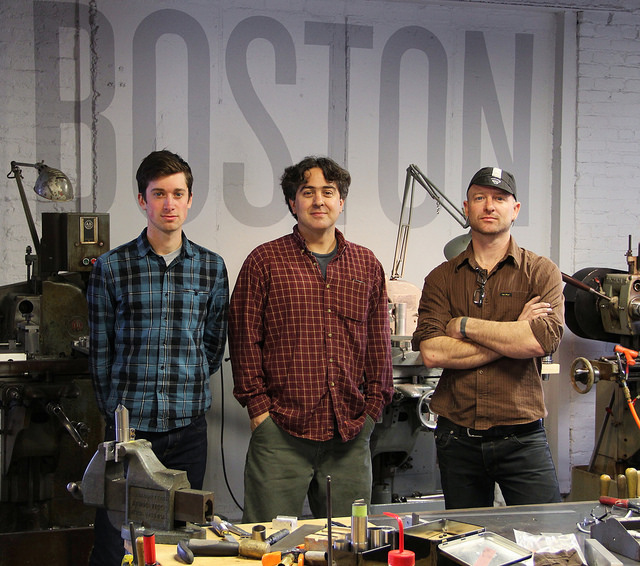 Firefly founders (L-R) Kevin Wolfson, Jamie Medeiros, and Tyler Evans. Photo from Firefly Bicycles flickr.
When Firefly Bicycles came onto the scene in 2011, the cycling world quickly took notice of their colorful anodizes graphics and clean titanium welds. The three founders, Jamie Medeiros, Tyler Evans, and Kevin Wolfson launched Firefly after jumping ship from Independent Fabrications when the company announced plans to move its operations to New Hampshire. In the years since launching, Firefly has established itself among the upper tiers of custom frame builders. I spoke to Kevin about the company and their frame building philosophies, their backgrounds with I.F. and beyond, American frame building's deep roots in New England, and more.
How did Firefly get started and why did you break away from Independent Fabrication to start a new company?
We started in 2011. [Independent Fabrication] was moving to New Hampshire. Tyler, Jamie, and myself wanted to stay in Boston. Tyler and Jamie own houses here. I grew up right near Boston. We all consider Boston our home and wanted to stay part of the community and close to the city. So we took that as an opportunity to start Firefly and build the company from the ground up the way we ideally wanted to see a custom bike company organized and run. It all went from there.
What was the process of going from a well established company to starting your own thing from scratch? Were there challenges you didn't expect?
We had a lot of help from a lot of really good people. The cycling community is a pretty small one and the hand built frame building community is an even smaller one. Tyler, Jamie, and I all have a lot of friends in the industry who helped us in a lot of ways to get to where we are. The biggest one, though not technically in the industry, was ID29 who we were working with early on. They're a creative agency based in Troy, New York and they helped us hugely with our logo and our branding and our brand identity.
There was a lot of planning. We had two or three months of planning before we introduced ourselves to the world, but after we had started in January. We used that time to get ready for production and getting set up so when we launched we were presented to the world in a professional way as a company that was ready to make bikes. With ID29's help and a lot of other people's help we were ready to do that when we launched in April of 2011.
From there we just followed through on our plan to put out a lot of content. A lot of pictures of the process of making bikes and of our shop to try and welcome people into the process. With all of that planning and all of that work and some luck we hit the ground running and fortunately had a lot of interest early on. The challenges early weren't getting orders, they were just fine tuning the process of making the bikes exactly what we wanted them to be. It was certainly a challenge to get the company of the ground, but we were really fortunate that things went well.

Inside the workshop. Photo by Heather McGrath via Firefly Bicycles flickr.
Though the company is still young, Firefly's founders have a lot of collective experience in frame building. Tell me about your backgrounds in custom frame building and the bike industry.
Tyler started building bikes when he was at Mass Art, which was 16 or 17 years ago. He studied sculpture there and through that learned how to weld. When he was at college he started working for Merlin Metalworks, which is where he learned how to weld bicycles. He worked there for a bit after college, then went to I.F. and was there for 12 or 13 years as the head welder and head of the creative direction of the company as well for a while. He gained a lot of experience and gained a following as one of a handful of the most respected frame welders in the country. Especially with titanium.
Jamie came to into the bike world as a bike messenger. He studied astronomy for a bit in college, but then became a bike messenger. He's very much a natural tinkerer. He likes to figure things out. He likes tools. I think that passion for making things led him to work for I.F. He worked there in a whole bunch of different departments from finishing to tacking to frame design to basically covering the whole range of how to make a bike. He was there for 12 years.
I came to it from a racing background. I've been racing road and cross bikes since I was about five years old and recently a little bit of mountain biking. Racing had always been my passion and the way I saw bikes and appreciated bikes. As I got older, I began to take a broader view of them. I raced through college and after college. I still race a little now, but less than I used to. I got up to being a Cat 1 and raced around the country a little bit. Then kind of took a step back from that a few years ago. I started working at I.F. right after college because I was racing for them at the time, so I had a connection to the company. I learned how to design frames from Joe Ingram and Jamie. I applied their technical knowledge with my understanding of how bikes are supposed to ride and fit that I had from racing bikes. I was there for two and a half years before we started Firefly.
You touched on this a bit already, but the industry is pretty well saturated with custom frame builders at this point. What do you have to do to stand out in the crowd?
It's a good question that a lot of customers ask us as well. There are a few tangible things that we do that help us stand out. Some frame options that we offer that we're able to do that other companies don't do or can't do or don't do as well. For example, with frame finishing, early on we started anodizing logos on titanium. Since then we have–not perfected it, cause we're far from that–but gotten very good at it. We can achieve a nice range of colors. Basically an infinite amount of custom graphics. And it's a good way we can show off how nice naked titanium can be while still making each frame unique and applying a nice custom touch for anyone who wants that finish.
Then stuff like internal DI2 and internal brake routing. An integrated seatpost with a custom ISP topper that we make. Options like that. Tyler and Jamie's fabrication experience has allowed us to do from early on. We're able to build a really big range of bikes, especially with titanium.
The other thing that's not so tangible is our focus on the process of ordering a bike. We think that part of what makes getting a custom bike special is getting to be a part of that process. When you get the bike you feel like you helped make it. To that end, that's part of the reason that I am focused on the customer direction side of things. I also do some photography and some marketing, but my main focus is working with customers. While a one-man shop can be a great set up, one of the shortfalls of that situation is that they don't have as much time to interact with the customer. I can take basically as much time as every client wants to talk through all of the options, to talk about the frame design, talk about the fit. That attention, for a lot of people, helps them feel more comfortable about getting a bike, especially if they aren't able to see the shop in person. It makes them feel better about it once they get the bike. We also take a lot of pictures of everything, with the same goal in mind. We take pictures of the bikes being made and we take studio pictures. The idea is to welcome the clients into the process of building the bikes so if they can't come see it being made in person, they feel like they know how it was made and are connected to that process in some way.
**During this year's NAHBS, Bicycling magazine's Bill Strickland made a comment about frame builders going from setting industry trends to following the design trends set by the major companies. Do you think this is true? If so why do you think that's happening? []
I think he made an interesting point and I think it's true to an extent. With components the biggest one–the one that he was focusing on when he made that comment–is disc brakes on road bikes. Disc brakes on road bikes are a thing every company, whether it's a custom builder or a big stock company, has to find a way to offer their clients. Stock companies are definitely partially responsible for these trends, but the big component companies are also determining what stock companies have to do. In other words, it's true that custom frame builders are following component trends like disc brakes or BB30 press fit bottom brackets, but I don't think that's unique or negative. We all should make an effort to make our bikes compatible with the nicest components available.
Where his observation doesn't necessarily apply–and we have the greatest respect for Bill–is that the heart of any great custom frame builder isn't their ability to make their bike work with modern components, though that's a part of it. The heart of a custom frame builder is making a bike that fits and rides perfectly for an individual. A stock company is never going to set a trend in that because that's not the way stock companies build bikes. A lot of stock companies make great bikes, but they're not bikes that are tailored to an individual. If that's the heart of what customer builders do, and that's certainly the heart of what we're trying to do, then it's not a new trend, it's not a fad. It's something that has always driven the custom bike industry and what continues to drive the industry. Any trends or fads that seem more important or seem like they're creating shifts in the way custom bikes are being made, those are more on the surface. What really makes a custom bike special is not subject to those trends in the same way.

Photo from Fireflybicycles.com.
**American custom frame building traces a lot of its roots back to New England with guys like Richard Sachs, Peter Weigle, and Chris Chance. And nearly every New England builder can trace their lineage back up the chain to them. What effect does it have that you're living and working as a frame builder in a place with such a rich, living history?
It's awesome. And that's part of the reason we wanted to stay in Boston. There's a lot of heritage in New England and especially in and around Boston. This is where Merlin started, where Seven started, where Fat City was, where I.F. was for most of their life. A lot of companies have begun and thrived in and around Boston. One of the side effects is that the bike culture around this city and in this area is really, really strong. That's not all attributed to the history of bike production in the area, but it's partially attributed to that. A strong bike culture means there's a huge race scene and there are races every weekend through road, cross, and mountain bike season. There's great mountain bike riding. There are group rides all the time. It's just a really great community.
The effect for us, being a part of that community, means our day-to-day lives are more enjoyable. The riding we're able to do is more varied and enjoyable and with more friends and people around us. But it also means we can get a lot of support from and through that community. One example of that is this year we started the Firefly Adventure Team, which is a six-woman riding team. All year they'll continue to do local and regional rides and some racing and documenting it to help inspire people to get out and ride their bikes on whatever roads or trails they've got. More than anything just to explore. When we were setting up that team, we got a lot of support from companies all over the country, but especially from local companies such as Pedros and Trade, a local restaurant in Boston that's part of the cycling scene, and Cuppow who make travel lids for Ball jars. They're based in Sommerville and all their manufacturing is in Massachusetts. Then a lot of the rides the women do are available because the cycling community is so strong in the area. It just makes it a better place to have a business place and makes it an easier, more fun to place to work with more resources to support us and for us to help people when need it.
What are Firefly's plans in the coming years?
We don't have any big plans to grow in terms of how many bikes we're making. We like the size of company we are. We like making the number of bikes we make because it allows us to give a lot of personal attention to each bike. Our plans are, first of all, to continue to make great bikes and improve the process of making them whenever we see an opportunity. Beyond that our plans to grow are growing in how we can play a part in the cycling community I was just talking about. The reason that we started the team is to try and develop and foster it so it keeps on growing. We want to find other ways to support and be a part of this community. Not with production, but in how we live and work in this city and this area.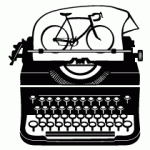 Like what you read on The Bicycle Story? Support the work with a donation or by buying a shirt.