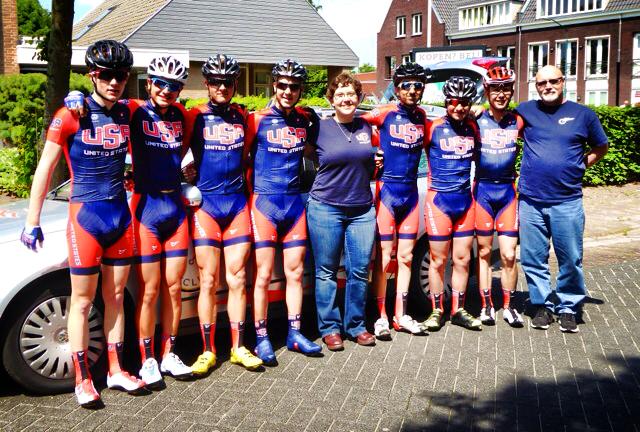 Soigneur Sara Clawson (center) with the USA Cycling juniors in Sittard, Netherlands.
Soigneurs may very well have the most thankless job in professional cycling. They take care of the grunt-work details necessary to keep a pro team running smoothly while remaining mostly anonymous. Sara Clawson is a sports massage therapist in Greensboro, North Carolina who's making inroads to a soigneur career. This spring, she spent two months working as a soigneur with the US elite junior team at USA Cycling's training center in Sittard, Netherlands. Over the next month, Sara's writing (originally posted on her blog) will shed some light on the "swanny life" as she recounts her experience traveling around Europe working with the next generation of American professional road cyclists. In part one, Sara talks about her path from aspiring soigneur to the USAC house in Holland.
The French word "soigneur" literally translates to "one who cares for the troubles of others." On a bicycle racing team, a soigneur performs a multifaceted job of keeping the cyclists' bodies and minds optimally primed for competition, doing everything from sports massage and minor first aid to food and bottle prep to tasks like laundry and chauffeuring riders.
When I was first getting into cycling as a teenager, I read a USA Today article about soigneurs that described it as one of the "10 Worst Jobs in Sports." The article is a fun read (and to my experience thus far, quite accurate), making the soigneur's job sound like a lot of hard, thankless work. It sounded exactly like the kind of job I wanted to make my career.
I worked at a bike shop through college and spent a month the summer after I graduated at the Barnett Bicycle Institute in Colorado Springs learning the ins and outs of bicycle mechanics. I gained a great foundation in the fundamentals of bicycle repair, but the greater interest it sparked for me was an appreciation for bicycle fitting and the nuances of changing the equipment itself to optimize the rider's performance. I attended massage school at the Body Therapy Institute the next year and focused my studies and practicum hours on learning sports massage and the specific needs of athletes. I enjoyed working with an athletic population and approaching massage therapy as a performance and recovery tool.
After being in private practice for a few years, I pursued a master's degree in sports medicine at the University of North Carolina at Greensboro, a school renowned for its top-tier kinesiology research as well as its commitment to excellence in education and exceptional classroom experience. I was delighted to find that several of my professors were also cyclists themselves and my adviser took particular interest in the biomechanics of chronic cycling injuries. He and I developed a testing and rehab protocol that became my master's practicum to use bike fitting and motion capture as a diagnostic tool to recommend rehabilitative exercise and modifications to equipment to improve the biomechanical sustainability of cycling. It was a pretty cool project, and got some attention from the National Athletic Trainer's Association. I still use the principles of our protocol extensively in my work with cyclists and triathletes.
Last year, one of my friends from graduate school presented me with an outstanding opportunity: her husband coaches an elite junior cycling team and invited me to accompany the team to the Tour de l'Abitibi, a prestigious international race for 17- and 18-year-old riders, in northern Quebec. I took a gamble on the hardest volunteer work of my life and it paid off — not only did I have an outstanding first experience as a soigneur at a major race, but I made some very good contacts with whom I would keep in touch. I enjoyed my experience so much that I applied to a training program at the Union Cycliste Internationale, the governing body of cycling, in Switzerland to be trained as a professional soigneur. After months of preparation and submitting a veritable tome of credential documents, I got a 2-line email a month before the start date saying that the program had been cancelled due to lack of sufficient applicants. I was crushed, and I felt like I was back at square one on my mission to become a soigneur.
After a volley of last-ditch-effort emails to some other contacts in the cycling world, another opportunity arose just a week later: I was offered a soigneur position at the USA Cycling international training center in Sittard, Holland for a few weeks of the spring racing season. So with only a few emails' worth of information, I stepped on a plane last Monday afternoon bound for Europe to try my hand at being an elite road racing soigneur.
I have a palpable sense that I'm embarking on something very special — few people get to actually follow through on a decade's worth of dreaming. While I hope for this to be the experience of a lifetime, I also hope for it to be a powerful springboard into the next great thing in my career; I want this to be just the beginning of the story. Above all, it has been an extraordinary lesson in the power of persistence and simply asking for what I want instead of expecting things to fall in line. I'm excited to share my experiences over the next few weeks!