Filmmaker Sam Smith is probably best known as the eccentric-looking guy following Jeremy Powers around with a camera for the web series Behind The Barriers. But Sam's roots in cycling films reach back over a decade. His first film, Transition, centers on the 2004 North American cyclocross season, following the stories of guys like Barry Wicks, Ryan Trebon, Adam Myerson, and Geoff Kabush. He followed up with a sequel to Transition, a short-lived "video periodical" called Cyclofile, before eventually starting Behind The Barriers. And though he's left Behind The Barriers, Sam is still producing cycling films including the forthcoming Working Dogs and a new episodic series called Acro Velo. Sam and I spoke about his history with filmmaking, his junior years of bike racing, working on Behind The Barriers and his decision to leave, his filmmaking influences, and much more.
How did you get your start as a filmmaker?
I got interested in photography in high school. I decided at the end of high school I was going to go college and either major in photography or film. I don't really know why I made the decision, but I went with film. I liked both of them equally. I guess the fact that there are more elements to filmmaking attracted me. I've always been a pretty obsessive kind of guy, got way into it, and kept going.
I know most of your films have been about cycling. Were you already a cyclist at this point?
I started racing bikes when I was 11. I raced bikes seriously through the juniors then just stopped cold turkey. I stopped racing and pretty much stopped riding right around when I was figuring out plans after high school. I decided I was done with cycling. I was way into cycling for so long, then immediately after deciding not to do it anymore, film stuff became the replacement obsession. When I was in college I was doing all this documentary stuff and taking documentary classes. You always need a subject, so I started shooting bike racing.

Sam Smith's junior racing days. Photo courtesy Sam Smith.
Was Transition your first documentary?
A year before that I shot the New England series. Adam Myerson was making this New England series year-in-review kind of thing. I contributed a lot of footage to that project and edited a lot of it. But that was his thing. I was just one of the guys working on it. The year after, I was taking a documentary class. We were supposed to make a 15 minute short. I started shooting it and a bunch of people started helping me out and I was doing random favors for people like making a promo video for TIAA-CREF. Ben Turner flew me to a couple races. I was able to shoot the whole season basically, so that's how Transition happened.
I know it was a few years later that Behind the Barriers got started, but are Transition and Transition 2 essentially how Jeremy knew about you as a filmmaker?
Pretty much. I knew him from just being around the cross races. He lives in Massachusetts and we're the same age. We were in similar times in our lives. We started staying in touch. He's always been into having a camera in front of him and we just liked hanging out, so that's how the whole thing came about.
The first year [of Behind the Barriers] we were completely winging it. Originally it was going to be three little videos. I was going to come to three races and do day in the life videos and that was it. But we were getting a good reaction from it and we both thought it was cool so we wanted to figure out a way to get me out to more races to keep doing it. It just snowballed from a very small idea. We went into the years after that wanting to do better than the previous year. We would lay out the schedule in September instead of just "let's see how it goes."
What was your favorite thing you got to do in the Behind the Barriers years, whether a favorite episode or trip you got to go on?
Definitely the Czech Republic. I would say my favorite trip was the second time we went to the Czech Republic and made those two episodes. I always had more fun doing the European episodes. The US episodes, they were always great to do, but they almost turned into a grind. We always had to be thinking of new stuff to do. Where as every time we went to Europe we didn't even have to think about it. Cool stuff would just happen.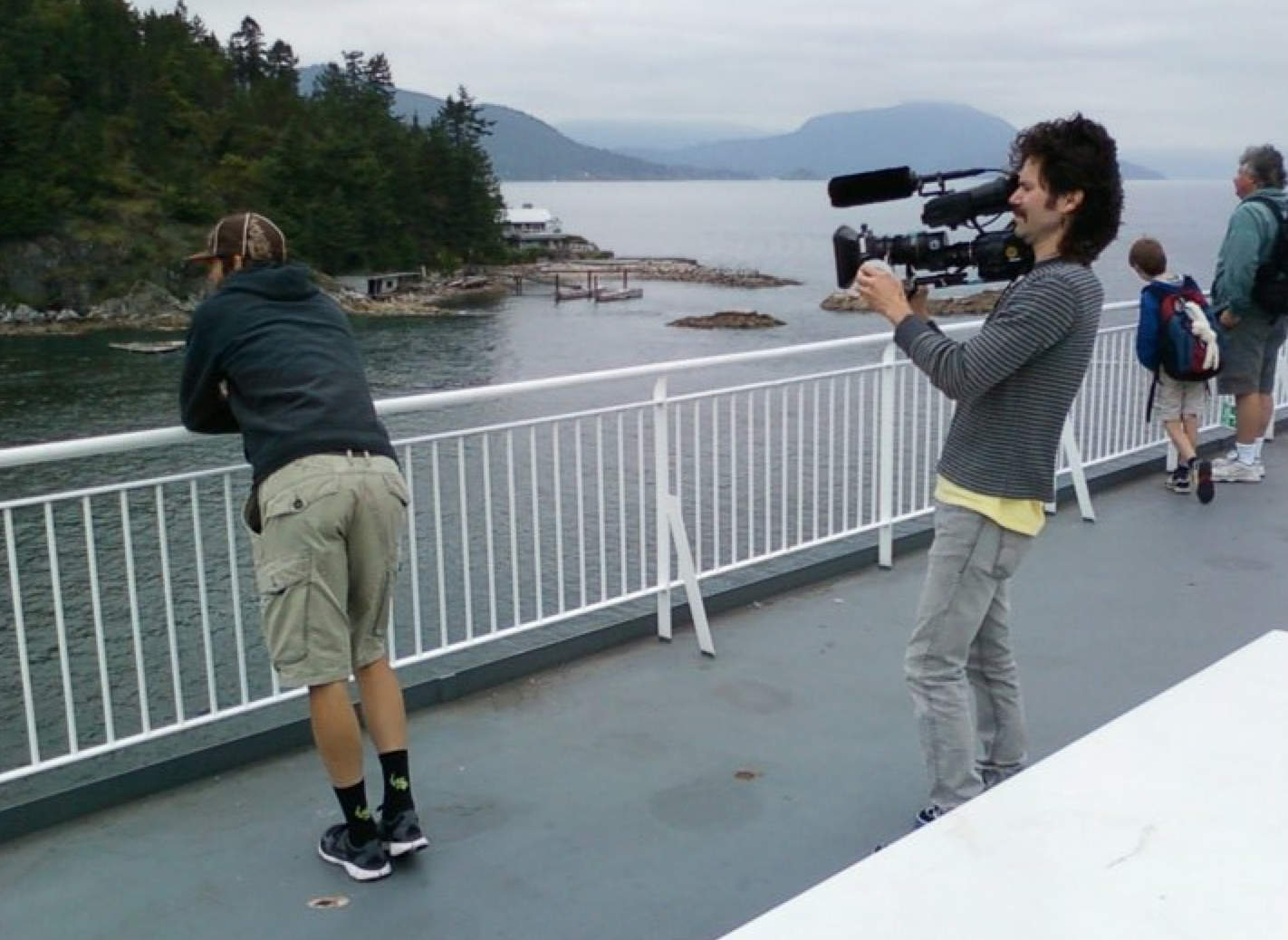 Filming for Working Dogs. Photo Courtesy Sam Smith.
Why did you decide to leave BTB and will it continue on without you?
I'll answer the second part first. The whole thing of BTB TV is going to continue on. But I don't know what's going to happen in terms of my show, the original version we always did. I'm not involved in any way, shape or form anymore. The whole thing will exist as a website with content on it, I just don't know exactly what will be on that website.
It was a big decision to leave. I'd done this thing for four years and it took up a massive amount of time and was a big part of my life. There were many different elements going into that kind of decision. But any time I make a big decision I try to boil it down to the simplest thing possible. There was a certain point in the fourth season when I was asking myself if there are a majority of days where I was waking up happy, where I was feeling good. And the answer was no. BTB had become such a big part of my life and it was the reason I was saying no. The goal, no matter what you're doing, is to feel good everyday.
Was the project no longer interesting to you? Had it gotten too formulaic?
That played into it for sure. There are a lot of elements that went into my decision to stop doing the show. And that was one of them. I didn't want to change the formula. There were always guidelines and barriers that I created around how the show was made. It was a very specific style and I never wanted to go outside of that. And for what it was I don't feel like we could've gone outside of that. But yeah, I'd had enough. It wasn't challenging anymore and I thought if was getting sick of it, then maybe other people are getting sick of it too.
As a cycling filmmaker, what are your must-see cycling documentaries?
Honestly, I don't really watch a lot of cycling related stuff. Maybe I'm like Prince in that way. I make my own stuff in a certain art form, but I don't really pay attention to anything else that's going on. You know how they say Prince only listens to his own music? Obviously I watch tons of other documentaries and movies, but I've never gotten into the other cycling stuff.
What documentary filmmakers do you draw inspiration from?
Coincidentally, some guys who live in my neighborhood. I'm in the Sommerville area of Boston. Fred Wiseman is an old-time guy. He was one of the first to do the Direct Cinema style in the 60s. Cameras were getting small enough to shoot anywhere and film stock was getting sensitive enough to shoot without lights, he and a handful of other guys like D.A. Pennebaker started the whole thing of following people around with a camera. They were doing it right when it was becoming in any way possible. Obviously now anyone can follow someone around with a camera. But those guys were the innovators. They were doing it first and they were the best at it.
I also like another guy who lives around me, Errol Morris, because he's awesome. He's incredible at interviewing people and can get things out of people that others can't. In terms of telling a story through interviews, he's really good.
Tell me about the Working Dogs documentary with Geoff Kabush.
Working dogs is coming out July 16. I started it long before Behind the Barriers. The first shoot I did for that project was in April 2010. It's been a very long, slow burn for a bunch of reasons. It's basically a movie about a good chunk of Geoff's story and it also has an element of these sled dogs in it. It's loosely drawing comparisons between humans and the animal kingdom, I guess. Geoff is a super interesting guy and the film covers a lot about his philosophy and his background and upbringing. The way he chooses to live his life is pretty cool.
You also just launched a new series, Acro Velo. What are your goals for that project?
The first installment about [Michael] Creed and SmartStop was essentially a pilot. It was a format I was thinking about doing. I thought the SmartStop guys, especially right now, and Creed's story was a good way to use that style. I just wanted to try it out and see what the interest level was, what the viability for continuing it would be. It's something I imagined would be good so I wanted to execute it and see if it was. It was almost just a curiosity thing.
I want to continue it. I have a bunch of ideas for other people to do the series about. I just put it out two days ago, so now I'm trying to feel out how much interest is there in it and if I can I get paid to do it.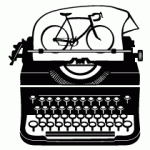 Like what you read on The Bicycle Story? Support the work with a donation or by buying a shirt.