Ian Crane. Photo by Matt Mills McKnight from the Denver Post
What if you worked for years to accomplish a dream goal and finally achieved it only to have it snatched away an instant later? How would you react? That's exactly what happened to 25 year old Ian Crane. Last year was his first as a professional cyclist. He'd signed with the Jamis-Hagens Berman squad and was getting better results than he'd expected. His career was full of promise. Then, as the 2014 season wound down, he had a horrific crash that left him hospitalized, scarred, and unable to ride. Ian's reaction? Unwavering positivity. The recovery process has been extremely difficult, but Ian says it's had unexpected rewards that have solidified his love of cycling. I spoke to Ian a few days after the anniversary of his crash about his cycling life, his path to professional racing, the crash in Colorado, recovery, his new goals and more.
It's been almost exactly a year since your crash. How are things going?
It's been an incredibly long road. I'm lucky to be where I'm at. Physically I'm able to do a lot of things my doctor said I wouldn't be able to do, so that's a pretty special step. There are still challenges and residual effects I'm going through, but I can get out and enjoy the act of riding a bike, so that's my number one priority.
How did you get started in cycling?
My whole family rides. My sister and I grew up riding with our parents then eventually got on to a tandem. We grew up in Sammamish, WA so very close to the Marymoor Velodrome. I took an introduction to track riding class there when I was 10 or 11. That led into racing. From there people were telling me about different types of bikes and different types of racing. I think I started doing junior racing on the road when I was 12 or 13. I didn't train or anything like that til I was much older. I didn't start to take it seriously until I was in college. I did a lot of bike races in pretty bad shape. I would just go to the race to hang out with my friends.
Did you come up in the Rad Racing program?
I did. I started with Rad Racing probably when I was 12. I've been involved ever since. That's a great program. Not just for having kids ride with their peers and having a supportive environment with all the tools you need. It also gave me the opportunity to try a lot of different types of cycling, whether it was going on mountain bike rides with the team or going to a camp and doing road stuff. That variety is really important for anyone getting started, especially juniors. I did all aspects of cycling and kind of landed on road racing, but that was after 8 or so years of dabbling.
I know your sister Tela is a bad-ass racer herself. Did you guys train together and push each other with sibling rivalry?
We started racing at the same time. She joined Rad Racing before me and it made me want to join the team as well. It was a great environment for her getting started because there were some powerful women as part of the coaching structure of the team and other junior girls racing. That's a welcoming environment for a young lady. The rivalry would come out at random times. We rode together pretty much all the time. We didn't get to race with each other all that often, but we would get to do a lot of town sign sprints and that sort of deal which really just ups everyone's game.

Ian Crane leads the pack at the North Star Grand Prix. Photo via VeloNews.

When did you start taking racing seriously and what was your path to the pro ranks?
I went to school at Western [Washington University] in Bellingham. I had a lot of time and a lot of cool roads to explore. I started riding a lot more because it was a welcome break from school and those sorts of life changes. I progressed with riding there. I was a cat 3 when I started college. I was part of the Hagens Berman team in Seattle. They had a traveling elite invite team that went to all the pro level races as amateurs. I won a bunch of races as a cat 3 and cat 2 which earned me a spot on the traveling elite team. I was part of that program for two and a half seasons and that let me go to a bunch of different races and see what the top of the sport was like. Based on the support from that team I was able to sign with Jamis program. I signed with them in 2013, so my first season as a professional was 2014.
Was racing your full time job at that point or were you doing other work on the side?
In 2014 racing was it. You travel a lot. I think I did four month-long blocks. I'd be home for a week and a half then get on the road again. Unless you have some sort of side gig that is computer based it's not really possible. In December through maybe February 2013-2014 I did some instructional compu-trainer classes at Harriot Sports Performance, but once the race season started I was a 100 percent a professional bike racer.
What was that first season as a pro like? Was it a big transition to a new lifestyle or had you sort of gotten used to it with Hagens Berman?
On Hagens Berman I was with guys my own age, with guys from Seattle, with my friends, our director was my best friend. We never went on really long trips. We'd go do a race, spend two days gone and go home. With Jamis, it was a job in the truest of senses. I was on a team with riders of all ages. I was one of the younger riders on the team. I was one of the few American English speakers on the team. I have some background in Spanish, but not enough I learned. With a couple of my first trips I'd be at a race for 2-3 weeks with only Spanish speakers and I'd be the only gringo there. It was a culture shock, obviously. I think that Hagens Berman prepared me for the mental workload of being a professional cyclist beyond the riding and the racing. That includes the recovery and sitting in the hotel room and the transport and airplane travel.
What were some of the high points of your first year as a pro?
2014 was much different in pretty much every single way I could imagine. I ended up having some great success at races that year. I won a couple and was ranked pretty high in the States. Proving I could ride at that level was a pretty big high. I worked for many years with the goal of making bike racing my job and I was getting paid to race and ride my bike. I'm still incredibly amazed that that's a thing that happened. I got to do a bunch of races that I'd never done before. That's a cool part of the job.
My favorite race was the Philly classic. It's a style of racing that suits me well, long and hard classic-type race. Also the crowds in Philly are pretty unreal. Even though the race starts at 9 a.m. there are a bunch of house parties with a bunch of drunk people going on near the race. We parked next to a big beer pong game going at 8:30 in the morning. That leads to a very enthusiastic and supportive crowd, which helps drive us as racers.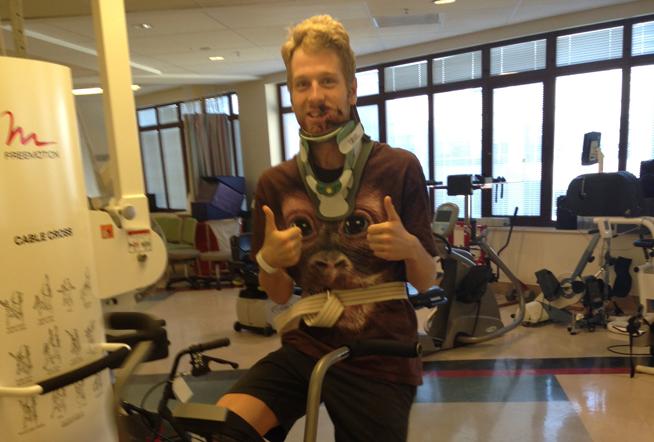 Trainer time was a huge part of Ian Crane's recovery
What happened with your crash in Colorado?
It was the last stage of the race. I was involved in a minor crash maybe 15k into the stage and broke my bike. So I got a bike change and was behind the peloton in the caravan. It's common in racing to use the caravan cars to move your way back to the group. I'm not really sure the chain of events, but somehow there was a fender bender with me being the second car. I went face first through the rear window of the car.
Horrible. Tell me about the recovery process over the last year.
It's been rocky. I was in the hospital for almost a month. Then after the hospital I was in the neck brace from August til the end of Thanksgiving. I had a severe traumatic brain injury so I had to relearn a lot of daily, normal functions. I went to a lot of therapy. Speech therapy and other brain related training. A lot of time, a lot of doctors appointments. There was physical therapy to help the body heal and get some strength back. Then this whole time I was riding the trainer every day to continue training. I couldn't go outside because of the brain injury and risk of re-injury. So I rode inside on the trainer everyday doing intervals and such with the neck brace on. I was anticipating racing this year, but in February I found out I had a cyst in my brain and had to get brain surgery in early April. Then it was 6 weeks off the bike again recovering from that.
When they do brain surgery they cut through a lot of neck muscles. I learned that cyclists have especially strong neck muscles because you're holding your head up when you ride. So I'm still now, 4 months after surgery, working on rebuilding the neck muscles to make functioning a little more comfortable. I'm out of all the specific therapies except neck PT. I'm able to ride my bike every day, which I consider a form of therapy. That's what I'm doing now, just going on rides and doing what my neck let's me do.
So you were in your first year of achieving your goal of going pro and doing better then you're expected, then this awful crash happened. Has it been a difficult thing to grapple with?
Yeah, for sure. It's very easy in any sort of traumatic experience to spend too much time inside your own mind. One of the biggest things is I've been over-the-top positive—eerily so to some people—about what's going on. It's my way of helping myself, my family, my loved ones work through this year. I'm not really one to mope about what happened or what I lost or anything like that. I'm incredibly grateful I had the season I did. It was a pretty special year. It does make where I'm at now a little harder knowing where I was. I'm half the cyclist I was a year ago. But if I compare it to where I was 6 months ago instead of a year and 6 months ago, it's a much better place to go. It's easy for any sort of trauma to become all consuming and I've been working really hard to be just Ian, not injured Ian.
What's the plan looking ahead? Are you trying to get back to racing professionally? Or is it still about taking it week by week, month by month?
It's very much still about taking it step by step. I love racing and riding my bike and that's was a big goal and I reached it. But I also have to make sure I'm healthy for a long time. Now I'm working as much as I can to get my body back to strength and comfort. I still can't go on a ride without it hurting. I'm working on all those muscular imbalances and skeletal issues and that sort of thing to try and make bike riding comfortable. That's the first step for now.

Ian Crane riding Highway 20. Photo via Andy Bokanev's Instagram.
I saw you've been doing some adventure rides with Andy Bokanev this summer.
Yeah, Andy and I have been doing some pretty cool rides this summer. If I was training for racing I would never in my wildest dreams do something like the [120 mile, out-and-back over a mountain pass] Highway 20 ride. That wouldn't fit in with my training. I figured this year I'm riding bikes for fun and Andy was totally cool with me stopping and stretching my neck whenever I needed to. We did Highway 20 for a really, really long day. We did Hurricane Ridge. We did Sunrise, one of the ways up Mt. Rainier pretty recently. We'll probably head up and do Mt. Baker at some point. It fits right into my goal of making the bike fun and doing things with friends. Those have been pretty cool adventures.
How does it feel to do those big adventure rides instead of really focused training? Is it sort of a new outlook on riding?
Precisely. I struggle to say it's one of the "better" things to come out of this. But it's been great to re-learn about my relationship with the bike and what riding means to me. Obviously I love riding and racing and it's been something that's been a large part of my life. With racing I loved the effort that went into training and the calculatedness, the feeling of success when you complete hard intervals. I loved all these things a bike could do, but it wasn't just "I love the bike."
I couldn't ride outdoors for 7 months. When I went on my first couple of rides, I remembered I really, really enjoy and that's continued on as I've been riding more and more in the past couple months. We all start racing and riding bikes because it's really fun. I think it's easy, especially as a professional, to view it as a job. I've realized this year that the bike will be there and it's something that's always going to be really fun and I've really appreciated being able to go out on these rides whether it's with my girlfriend, or going on a crazy Highway 20 ride with Andy. The bike is meant for this childlike joy.