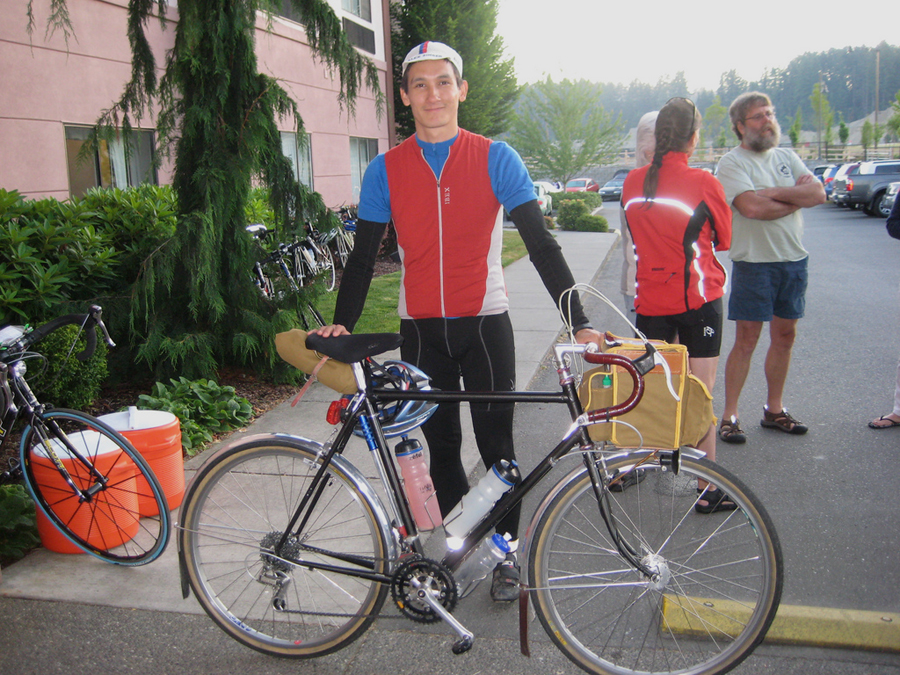 My First Bike explores the life and work of professional frame builders by going back to the start and looking at the first bike they ever built. Today's My First Bike features Dan Boxer of Seattle's Boxer Bicycles. 
Give me the short rundown of your first frame: when was it built, where, materials, any special details about it, etc.
I built my first frame at United Bicycle Institute in Ashland, OR in September 2005.
It was designed to be a 650B wheeled randonneur. It was meant to carry a handlebar bag with a dedicated, handbuilt rack; use dynamo lighting for the headlight; braze-ons for the battery taillights; provide clearances for the then-oddball size 650B x 38mm tires and fenders; and the big "challenge," braze-on brake bosses for MAFAC Dural Forge "Racer" centerpull brakes.
As it happens, I was able to convince the instructor Ron Suthpin that it was okay for me to use the Richard Sachs Newvex lugs, even though they were a bit ornate on the shoreline for a first build to braze very cleanly. I also snuck in some lightweight tubing, .7/.4/.7 Columbus downtube, .8/.5/.8 top tube.
I went a little "fancy" on the dropout connections, trying to emulate the French style where the very end of the scalloped stay or blade end is not filled. It looks cool and requires good heat control to make the filler go where you want it to, especially for a first build. I asked the Ron, and Gary who was assisting Ron at the time, how to do this technique and was advised against it. But I went ahead and did it anyhow.